Will California Change How Uber Treats Its Drivers?
"There's no question the drivers are better off under what we are proposing."
By and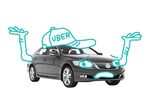 California, home to the headquarters of Uber and a significant chunk of the company's U.S. business, was the first state to issue regulations covering the ride-hailing giant, in 2013. It's once again at the forefront of the debate about how to manage Uber—specifically, what the company's obligations to its drivers should be. Uber considers them independent contractors. In June a state Unemployment Insurance Appeals Board judge determined that a former Uber driver should be treated as an employee. In September a federal judge in San Francisco granted class-action status to Uber drivers who contend they're really employees and thus entitled to reimbursement for gas and other expenses.
On April 20, a committee in California's Democrat-led Assembly is scheduled to vote on what would be the first statewide law to give Uber drivers the right to create a unionlike system for independent contractors, following the passage of a similar citywide ordinance in Seattle late last year. "This bill ensures that the millions of Californians who aren't treated as employees, including workers in the evolving gig economy, simply have the option to organize," Assemblywoman Lorena Gonzalez, a San Diego Democrat who sponsored the bill, said in a March statement.
Uber has steadfastly maintained that its more than 400,000 drivers—"partners" in its lingo—are most definitely independent contractors who work for themselves, not for Uber. The company and its app, in this view, are just means for matching an individual driver with riders more efficiently. "Nearly 90 percent of drivers say the main reason they use Uber is because they love being their own boss," Uber said in a statement. Last year the company successfully appealed a ruling by Florida's Department of Economic Opportunity that an ex-driver should be treated as an employee.
Not all worker advocates are on board with the California proposal. Some say Uber drivers should be treated like regular employees and, as such, accorded rights like access to unemployment benefits and minimum-wage pay. Others argue that the drivers, as workers in the app-enabled sharing economy, aren't like traditional employees or contractors and shouldn't be wedged into existing legal categories.
In December two former Obama administration officials proposed creating a legal definition for so-called independent workers, who have more autonomy than employees but less than independent contractors. "The current set of labor laws and employment laws are obsolete for this emerging sector," says former Council of Economic Advisers Chairman Alan Krueger, who put forward the proposal in a paper for the Brookings Institution with former acting Secretary of Labor Seth Harris.
Under Krueger and Harris's proposal, independent workers would be granted some of the benefits accorded to regular employees, including payroll tax contributions from their employers. But the designation would exclude some guarantees, such as a minimum wage and overtime pay, because Uber drivers or people who deliver groceries for Instacart have control over their time that shift workers don't. "There's no question the drivers are better off under what we're proposing," Krueger says.
Creating a new worker category would require federal action, which isn't likely under the Republican-controlled Congress. Courts and federal lawmakers have long wrangled over which workers qualify for which labor law protections. In 1947, after the U.S. Supreme Court upheld a ruling requiring Hearst Publications to negotiate pay and benefits with the newsboys who delivered its papers, Congress amended the National Labor Relations Act to exclude independent contractors, like the newsboys, from coverage. Under current law, courts assess who's an employee or a contractor based on a series of questions, including who provides the tools, whether the work is integral to the company's business, and how much control the boss exerts over a worker's time and activities.
The Seattle city ordinance still treats drivers as contractors but offers them the right to choose an organization to represent them for the purpose of winning better pay and treatment from companies like Uber. The company will be required to recognize such a drivers' association, even though federal labor law doesn't require that. "A lot of drivers don't necessarily want to be an employee," says Seattle Councilmember Mike O'Brien, who championed the city's approach. "They like the flexibility, but they say, 'I just have no say in what's going on.' " The law proposed in California expands the model to include all sharing-economy workers.
Seattle's fix, which was backed by Teamsters who've been trying to unionize Uber drivers, is being challenged by the U.S. Chamber of Commerce. In March it sued in federal court, claiming that drivers will violate antitrust laws if they band together to negotiate rates with Uber. The city is fighting the suit. The California Chamber of Commerce has put the legislation pending there on its annual list of "job killer bills."
Some worker advocates say compromises that classify drivers as anything but employees fall short of treating workers fairly. "It serves the Uber business model," says Bhairavi Desai, executive director of the New York Taxi Workers Alliance, which supports classing drivers as employees. Wilma Liebman, who chaired the National Labor Relations Board in Obama's first term, says, "There are very strong arguments you can make that Uber drivers are employees, given the nature of the control Uber has." Halfway categories such as the one Harris and Krueger are proposing, she says, "might result in further erosion rather than further protection of standards."
Uber's chief rival, Lyft, has shown some willingness to compromise. In November, Lyft's co-founders joined Seattle labor leader David Rolf in releasing a statement backing the extension of benefits like injury compensation to independent workers—a feature of the Harris-Krueger proposal but not of the unionization ordinance being considered in California. Harris says he's confident others will come around to his view: "Both sides have to lose some, and they have to realize that coming together in a grand compromise is the better path to protecting their interests than trying to beat the other over the head."
The bottom line: California is debating a law that would let Uber drivers unionize, but that hasn't settled arguments about how to treat gig workers.
Before it's here, it's on the Bloomberg Terminal.
LEARN MORE