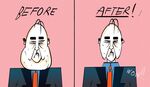 Stand down flaccid penis, the next fat profit center in the pharmaceutical industry may be the double chin.
Allergan Plc is beginning an aggressive sales blitz for Kybella, the first injectable treatment for what the medical industry terms "submental fat" and you probably think of as the junk inside of jowls. "It's a disruptive technology," said Philippe Schaison, president of Allergan's U.S. medical business. "It's working great, and there's nothing like it."
Scientists at Kythera Biopharmaceuticals Inc. worked on Kybella for roughly a decade. Soon after the Food and Drug Administration approved the chin treatment, in April 2015, Allergan moved to buy Kythera for $2.1 billion in cash. The giant drug maker has trained roughly 1,600 doctors in the U.S. and Canada to administer Kybella, an effort that will expand if European Union regulators approve the drug, as the company expects, some time this year. Allergan is putting together an advertising blitz, including a number of television commercials, that will flood televisions in September.
The active ingredient in Kybella, deoxycholic acid, is a form of bile that destroys fat cells in the digestive tract. It turns out that the stuff does the same in the chin. The treatment involves 20 to 30 tiny injections by a doctor, with care to avoid the nerves and major blood vessels running under the jawline.
Each session costs about $1,500, and most patients require two to four, according to Dr. Anne Chapas, a dermatologist in Manhattan. Her practice, Union Square Laser Dermatology, now performs a few Kybella treatments a week. "We've been hearing about this for over 10 years, so we were absolutely excited about it," Dr. Chapas said. "We know there's huge potential."
Kybella will serve to shore up Allergan's strong position in the booming market for aesthetic treatments, a segment that Sanford C. Bernstein expects to grow at 10 percent a year through 2020, faster than any other Allergan business. For eye wrinkles, the company sells Botox—by far its most lucrative product, with $2 billion in 2015 sales. For more dramatic cheekbones, Allergan offers so-called dermal fillers such as Voluma.
The next move in Allergan's descending conquest could create the largest aesthetic market yet. In preliminary trials, the company says, Kybella proved effective for 80 percent of patients. "This is an area that for a lot of people is just a genetic problem," said Chapas. "It happens in plenty of people that are thinner or normal weight."
There are few chin-slimming alternatives available. The most popular option in the U.S. market, liposuction, costs as much as $6,000 or more and involves an incision, at least a few days in bandages, and occasional scarring.
Allergan's Schaison already has a name for the combination of Botox, dermal fillers, and Kybella: the liquid facelift. All three treatments use needles, not knives. "Now, we're almost a one-stop shop," he said. "We own the face."
Shcaison isn't just president of the company pushing the no-cut facelift; he's also a client, the second person in Allergan to receive a Kybella treatment. "I was not bothered by my chin, but I wanted to experience it," he said of the 10-minute procedure. "I absolutely loved the results."
Unlike Botox, the effect of Kybella doesn't wear off in a few months. That means the revenue stream is short. But the chin drug has far broader appeal than most treatments on the menu at the plastic surgeon or dermatologist's office.
Elizabeth Krutoholow, a pharma analyst with Bloomberg Intelligence, estimates Kybella would be appropriate for roughly two out of three patients who visit a dermatologist. It promises to draw new types of consumers, predicts Canaccord Genuity analyst Corey Davis, with potential to appeal to men and middle-American consumers. Allergan said men will probably constitute 30 percent of Kybella patients, compared with only 10 percent of Botox users. The forthcoming ad campaign will be fairly gender neutral, Allergan said, in both the message of the commercials and where they will run.
That broad potential has made it difficult for analysts to forecast the drug's sales. Allergan believes Kybella could eventually become a $1 billion business, roughly half the company's current Botox revenue. Krutoholow is forecasting $500 million in annual sales, and Sanford Bernstein expects the treatment to garner $306 million a year by 2020.
Of course, even a billion-dollar chin business would be fairly tiny next to erectile-dysfunction pills, which garnered $4.3 billion in sales around the world last year. But Kybella should quickly blow past Prozac (depression), Propecia (hair loss), and Prilosec (heartburn). And why stop at the bottom of your face? Allergan is already testing whether Kybella might be safe and effective in arms, knees, and love handles.
Before it's here, it's on the Bloomberg Terminal.
LEARN MORE