Rousseff to Denounce `Coup' in New York, Leave VP in Charge
by and
She describes impeachment process underway as a coup d'etat

Opposition says process is legal, allowed under constitution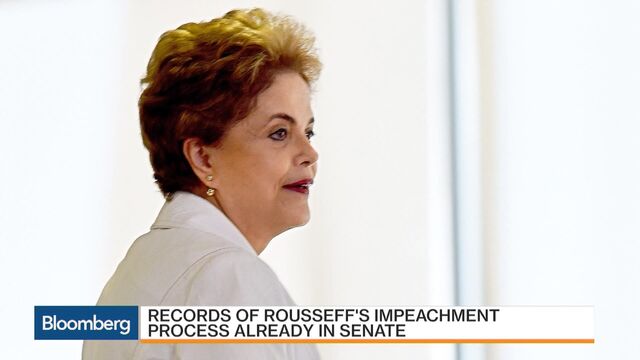 President Dilma Rousseff will leave Brazil in the hands of the man who she accuses of leading a coup attempt against her when she travels to New York on Thursday for a United Nations climate event.
Her two-day trip comes after the lower house on Sunday voted by a wide margin in favor of her impeachment, a process she says is being led by her vice president, Michel Temer. Last month Rousseff canceled a trip to Washington, in part because she didn't want to leave Temer sitting in her chair even for a few days, according to a government official with direct knowledge of her plans. Brazil's constitution determines that when the president travels outside of the country, the vice president takes over in her absence.
The trip, which had been planned but not confirmed for weeks, gives the president an international stage from which she can denounce the impeachment process and question the legitimacy of those seeking to remove her from office, the official said. She accuses Temer of "conspiracy" and being the "captain of the coup," as he quietly assembles a cabinet and policy platform for the day he could step in as president.
Opposition lawmakers say the impeachment process is constitutional and has been vetted by the Supreme Court, which last week rejected government motions to suspend the proceedings. Congressmen Jose Carlos Aleluia and Luiz Lauro Filho also will travel to New York this week to counter Rousseff's allegations.
"I'll speak in New York to show that there is no coup going on in Brazil," said Aleluia, who didn't provide an agenda or schedule of meetings for his trip. "We'll explain that impeachment is widely supported in the lower house and is following guidelines set by the Supreme Court and the constitution."
The Senate could vote in mid-May whether to open impeachment hearings against the president, according a timeline that Senate chief Renan Calheiros presented on Tuesday. Rousseff would have to temporarily step down if the opposition garners a simple majority, which surveys conducted by local media show it currently has.
Temer would take over as acting president during her Senate trial and permanently take the country's reins if the opposition wins a final vote with a two-thirds majority. Rousseff has repeatedly vowed to fight against her ouster.
Before it's here, it's on the Bloomberg Terminal.
LEARN MORE