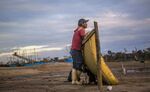 Peru's presidential election is highlighting the country's economic success -- and its broader failures. While Peru can boast South America's best growth and inflation figures over the past 15 years, it also has some of its worst social indicators.
The two candidates in the runoff on June 5 both pledge to maintain the business-friendly policies that have fueled growth averaging 5.3 percent since 2001 and annual inflation of only about 2.7 percent. The battle between Pedro Pablo Kuczynski and Keiko Fujimori is about socioeconomic issues. While Fujimori is concentrating on rising crime and people's sense of insecurity, Kuczynski is proposing higher health spending and education standards. With almost a quarter of Peruvians living below the poverty line, whoever wins has their work cut out for them.

Kuczynski has highlighted Peru's ailing health-care system for a reason. The proportion of children under three years of age receiving basic vaccinations fell to a five-year low of 61 percent in 2014 while the anemia rate among children under five rose to a four-year high of 36 percent, among the highest in South America. Kuczynski proposes boosting health spending annually by 0.5 percent of gross domestic product and expanding health insurance to 95 percent of the population from 77 percent.

Peru's education system isn't any better. Spending on education in 2011 was among the lowest in the world, so it may be no surprise that in the OECD's last assessment of the math and reading standards of 65 nations, Peru was at the bottom. The country's education budget has been growing since 2012, bringing it closer to the regional average, but the government has to make up for years of under-spending.

As if dismal levels of health-care and education weren't enough, the growing number of robberies, homicides and use of extortion has become a top concern for voters going into the election. Fujimori supports deploying the military to guard government buildings, and the introduction of the death penalty for some crimes. Kuczynski proposes remedying the causes of rising crime, including inadequate policing, teenage pregnancy and a precarious labor market.


Despite the gloom and doom over public services, the government is in a good position to raise spending. Peru is the South American economy that has best withstood the commodity slump, thanks to rising output from new copper mines and fiscal buffers that allowed the country to lower taxes and boost public investment.
The pressure will be on the new administration to deliver by fixing Peru's woeful public expenditure inefficiency and clamping down on corruption, said Pablo Secada, chief economist at the Peruvian Economy Institute. Unless Peruvians see further improvements in living standards, support for more radical redistribution policies and opposition to foreign investment will increase before the next election in 2021.
"If we don't seize the opportunity this time then these elections will look like heaven to the ones we'll confront in five years," Secada said.
Before it's here, it's on the Bloomberg Terminal.
LEARN MORE