Pacific Ocean Holds Key to Preventing Blackouts in Parched India
by and
Low water levels a risk to power output in No. 3 Asian economy

Possible `La Nina' ocean pattern may help by ending dry spell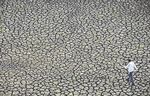 The man charged with supplying electricity to about 33 million people in the Indian state of Kerala needs rain to help keep the lights on.
Hydroelectric output in Kerala is about a quarter below expected levels after two poor annual Indian monsoon seasons sapped water reserves, according to M. Sivasankar, the chairman of the state's electricity board. At the same time, power demand is higher than anticipated as summer heat intensifies.
"We've been managing," Thiruvananthapuram, India-based Sivasankar said. "We'll worry if there's no rain until after June 30."
The state exemplifies the pockets of stress emerging in India's electricity generation sector after the worst span of rains in 30 years raised the specter of outages. Water could pose obstacles to Prime Minister Narendra Modi's goal of reliable power for all by 2020 unless the nation manages supplies better.
Hydroelectric and coal-fired power plants need substantial amounts of the scarce resource, as do agriculture, industries and India's 1.3 billion people -- underscoring the competition.
Much now depends on the heavens: Forecasters expect the first good June-to-September monsoon since 2013 as changes in equatorial waters in the Pacific Ocean lead to weather patterns that spur downpours. 

This so-called La Nina phenomenon would follow an El Nino that hurt rainfall in 2015. The critical question is whether the prognosticators will be proved right, since the monsoon accounts for the bulk of annual showers and has implications for the entire economy.
Hydroelectricity accounts for about 14 percent of power generation capacity in India. Coal makes up about 60 percent, with gas, renewables and nuclear accounting for most of the remainder.
While water shortages may affect power supply in some regions, surplus generation capacity will limit the impact, according to Sambitosh Mohapatra, a partner for utilities at PwC India. About 28 percent of capacity, or about 72 gigawatts, was idle as of April 8, according to Central Electricity Authority data.
'Shutting Down'
Over 50 hydroelectric plant units, from Himachal Pradesh in the north to Kerala in the south, reported outages due to insufficient water as of April 8, according to the latest Central Electricity Authority data.
Coal-fired power has experienced challenges too. NTPC Ltd. in March suspended operations at the 2,100 megawatt Farakka plant in West Bengal after a drop in water supplies. The 1,130-megawatt Parli plant in Maharashtra has been disrupted for similar reasons.
Besides affecting hydro generation, "there could be some sporadic cases of coal power plants shutting down," because of water shortages, said the authority's New Delhi-based sector specialist S. D. Dubey. 
NTPC is looking at scaling up the use of recycled waste water. Maharashtra's cabinet will this month consider new legislation that would bar all power units from using fresh water.
Some 75 percent of India's basins currently hold less water than the average for the past 10 years, Central Water Commission data show. Across the country, reservoirs are 76 percent empty. Scanty downpours in the past two years also exacerbated the challenges from groundwater over-exploitation in India. 
While Asia's No. 3 economy has taken recent steps such as capping water usage at thermal plants in guidelines issued by the Environment Ministry, the weather remains key. La Nina -- sometimes thought of as El Nino's opposite -- typically brings more rain to parts of Asia, including India. El Nino is a warming in the equatorial Pacific Ocean, while La Nina is a cooling of the waters.
Above Normal?
The monsoon this year is likely to be above normal, according to the India Meteorological Department. But if the prediction goes wrong, the nation enters almost into uncharted territory -- three straight deficient rainy seasons comprise a once-in-a-century event.
"This is an unprecedented situation," said Himanshu Thakkar, coordinator for the New Delhi-based South Asia Network on Dams, Rivers and People. "The water challenges and its resulting problems in power production are something we have never seen before."
Before it's here, it's on the Bloomberg Terminal.
LEARN MORE