Oil Trader Andurand Warns Doha Signaled Rising Mideast Tensions
By
Hedge fund manager sees conflicts disrupting crude supplies

Firm's assets more than doubled to $1 billion in past year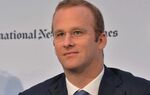 Pierre Andurand, the money manager who made 38 percent betting against oil in 2014, warned that signs of tension at a meeting of the world's biggest producers this month in Doha point to increasing Middle East unrest that could eventually lead to supply disruptions.
The failure of oil ministers to reach an agreement at meetings in the Qatari capital "clearly revealed deep disagreement within the Kingdom and rising tensions between Saudi Arabia and Iran," the manager wrote in a monthly letter to clients of his hedge fund, Andurand Capital Management. "As a result, we believe that the current escalation in Middle Eastern sectarian conflicts will likely result in more proxy wars that will eventually create more supply disruptions."
Andurand's firm has more than doubled to $1 billion in assets from $430 million about a year ago. His main fund rose 2.2 percent in March, bringing gains to 5.8 percent in the first quarter, according to the letter obtained by Bloomberg.
The fund manager said earlier this year that he thought oil prices had bottomed, ending a decline that began in June 2014. Andurand sees oil prices rallying to $60 to $70 a barrel by year-end, he reiterated in the letter, before they reach $85 in 2017.
Supply disruptions in the Middle East "would come at a time when the market is already rebalancing quickly which would add a large upside potential to our current crude oil price forecast," Andurand wrote, adding that lower prices may have taken a long-lasting toll on production infrastructure.
"We continue to believe that we are only at the beginning of a structural multiyear rally in oil prices," he said.