Oil Producers Saw $32 Billion Boost Before Doha Freeze Talks
by
Energy firms benefited from 29% price rise before meeting

Russian oil value up $3.7 billion; Saudi Arabia $3.3 billion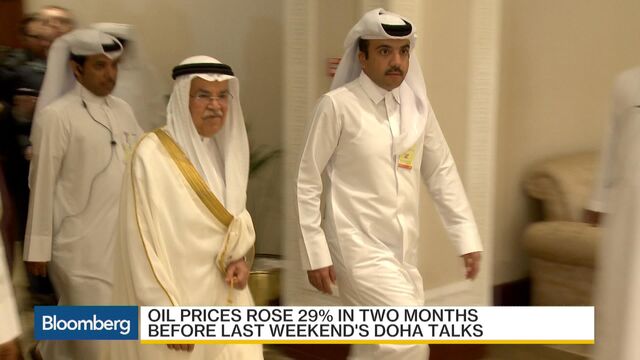 Even if oil producers didn't seal the output freeze deal they hoped would stabilize the market, they saw revenues soar in the run up to the failed meeting last weekend in Doha.
The 29 percent advance in prices since word first leaked that Saudi Arabia and Russia were considering capping output boosted the value of global oil production by $32 billion before talks ended without an agreement Sunday, according to data compiled by Bloomberg. Oil also gained during that period as output in countries including the U.S. fell amid spending cuts, while pipeline failures in places like Nigeria and Iraq also limited supplies.
Brent oil gained about $10 a barrel to about $43 in the two months leading up to the Doha talks. The deal ultimately collapsed after Saudi Arabia refused to take part without Iran, which wants to increase production after emerging from years of sanctions. It was unclear whether a freeze would have had any impact on market fundamentals anyway, as countries were suggesting they cap output at record levels of production.

The price hike added about $3.7 billion to the value of Russia's oil production, and another $3.3 billion for Saudi Arabia, based on Bloomberg calculations using production estimates from the International Energy Agency. Even countries that didn't get involved in the freeze talks benefited. U.S. oil saw an extra $3 billion during the two-month span, while Canada got a $1.5 billion boost.
Efforts to reach an agreement to freeze production are ongoing. Major producers within and outside of the Organization of Petroleum Exporting Countries may meet in Russia as soon as next month, Iraq's Deputy Oil Minister Fayyad Al-Nima said in a phone interview Wednesday. There is still no agreement on a meeting in May, Russian Energy Minister Alexander Novak said after Al-Nima's comment.
Before it's here, it's on the Bloomberg Terminal.
LEARN MORE