Of All Google Legal Woes, EU Android Case May Be Top Threat
by
Remedies could slow growth of company's mobile users

Changes to contracts with phone makers may give rivals access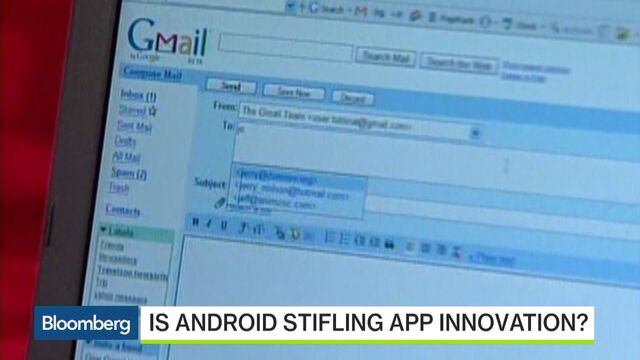 Google regularly tussles with regulators over taxes, privacy, and competition, but the latest battle, which came to a head Wednesday in Europe, may be the biggest challenge yet to the company's mobile strategy.
Regulators are going after Android, the key to Google's shift from a company serving information and ads on personal computers, to one that beams this content to billions of phones, tablets, and smart-home devices. If charges stick, the company will find it harder to grow ad revenue, control costs and make money from mobile gadgets in Europe.
"To date, this is the one that should not be completely dismissed," said James Cakmak, an analyst at Monness Crespi Hardt & Co. "Android is an extension of Google and its touch-point to virtually every non-iPhone user in the world. Anything to potentially threaten that is a risk."
Europe said Wednesday that Google's main strategies for making money from Android are anti-competitive. At issue are contracts requiring handset makers and wireless network operators to pre-load Google services, like Search and its Chrome browser, on Android phones that use Google's Play app store. Google also offers financial incentives for Android partners not to install other search engines on their devices, the regulator said.
Both tactics create more mobile users for Google by ensuring that when someone turns on a new Android device, Google services are prominent.
Seven Google products - Search, Android, Maps, Chrome, YouTube, Google Play, and Gmail - have a billion monthly active users and are growing quickly on mobile, the company's Chief Executive Officer Sundar Pichai said earlier this year. Six of these are available as mobile apps and four were mandatory pre-loads for Android phone maker HTC, along with Google Play's predecessor, according to a contract unearthed in 2014.
The Europe Commission wants phone makers to be able to choose which apps they install on their Android devices, instead of being limited by Google's all-or-nothing deal. "It is one of my priorities to allow consumers to enjoy a wide range of innovative platforms, products and services online," Margrethe Vestager, Europe's competition chief, said Wednesday.

Anticipated
The objections were anticipated by investors, and it will probably take years for any fine or changes to be imposed, should the Commission not drop its charges or settle. Shares of Google parent Alphabet Inc. fell less than 1 percent Wednesday. But the announcement highlighted the regulatory risk the company faces in Europe.
Longer term, Europe's probes "could have a material impact, if they require a material change in Google's business practices," Mark Mahaney, an analyst with RBC Capital Markets, said in a note circulated to clients.
Google, which is scheduled to report results Thursday, said its Android contracts are voluntary. The popularity of other companies' apps like Spotify and WhatsApp on Android phones shows how easily people can access competing services through the operating system, it added.
Future Versus Past
Last year, Europe said Google abused its dominance in general search to favor its shopping service over rival offerings. Those objections focused on mature, existing Google businesses. The latest case is different because it targets a major source of future growth. 
The Android investigation is more important for Alphabet shareholders, Carlos Kirjner, an analyst at Bernstein, said in a report Wednesday. "It could weaken Google's long-term position in mobile," he wrote.
Any changes to Android contracts could make it easier for rivals to get their software and apps into the hands of Android phone users. That, in turn, may limit Google's mobile user growth. An April 2015 survey of iPhone and iPad users found that less than half would switch back if the default search engine -- Google Search -- was changed.
If Chrome was un-bundled from Android and manufacturers pre-loaded other web browsers, that would cut off a major source of mobile searches for Google. That's because Chrome's default search provider is Google Search -- when people type phrases into the Chrome navigation bar, they automatically become search queries. Without that, Google may have to pay more to phone makers and other partners to keep its search engine embedded in different browsers. 
If phone makers could install their own app stores instead of Google Play, that would limit revenue Google generates from selling applications. Four of the top ten countries for growth of Google Play revenue were in Europe, according to a recent report from App Annie.
Easier Remedies
What could threaten Google's business most is the simplicity with which regulators could demand fixes. Europe's search case may require the company to re-write algorithms, a challenge for regulators unversed in the minutiae of website indexing and ranking. Addressing Europe's Android demands could involve changing or scrapping contracts, a familiar process for lawyers and policy makers. 
"This is more doable -- you can tell them not to enter those kinds of contracts," said Harry First, a professor at New York University's Law School.
Ben Edelman, an associate professor at Harvard Business School who has consulted for Google rivals, proposed another remedy Wednesday. When people turn on a new Android smartphone, Google should be forced to let them choose from the top five search engines, maps apps, browsers, geo-location services, and so on. 
"As users saw these options, competing app makers would get a prominent opportunity to attract users at modest expense -- beginning to restore the competition that Google has improperly foreclosed," Edelman said.
In an earlier antitrust battle, Europe required Microsoft to show Windows PC buyers a "browser choice" screen that let them pick between its own Internet Explorer and other browsers. When the regulations were in place -- from February 2010 to December 2014 -- Internet Explorer's share of the European browser market on PCs fell from 46 percent to 17 percent, while Google's Chrome surged from below 7 percent to 47 percent, according to data from StatCounter Global Stats.
A repeat of that, with Google as the target, has analysts on guard.
"The European issue is probably the second biggest worry I have," said Victor Anthony, an analyst with Axiom Capital Management. His top Google concern is competition, which will increase if European antitrust regulators get their way.
Before it's here, it's on the Bloomberg Terminal.
LEARN MORE