Mass Killer Breivik Wins Suit Claiming Inhumane Treatment
by and
Norwegian government has yet to decide on possible appeal

Defense lawyer calls for end to Breivik's solitary confinement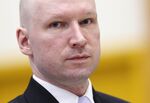 Norway was found in violation of Europe's conventions on human rights for the prison conditions of Anders Behring Breivik, the right-wing extremist who is serving a 21-year sentence over the 2011 massacre at a Labor Party Youth camp.
The Oslo District Court ruled partly in favor of Breivik, who had sued the state over his isolation in prison, it said in a statement. The state was found guilty of violating article 3 of the European Convention of Human Rights pertaining to inhuman and degrading treatment, but was found not in violation of the eighth article, which regards the right to private life.
"The prohibition of inhuman and degrading treatment represents a fundamental value in a democratic society," the court said. "This applies no matter what -- also in the treatment of terrorists and killers."
While the ruling caused surprise and consternation in a country that still bears the scars of Breivik's violence, it was also lauded by legal experts and commentators as proof that the Norwegian legal system works.
"It's actually a brave decision, to take this position in such a controversial case," said Thomas Horn, a partner at law firm Schjoedt and a specialist of solitary confinement and human rights. "We can take some pride in the fact that we have a legal system that has handled this in such a thorough and open manner."
"I can understand if people react to this verdict," Justice Minister Anders Anundsen said on public television channel NRK, according to news agency NTB.
Breivik was found guilty of killing 77 people, including children, in a shooting rampage and bombing billed as the most violent incident in Norway since World War II. He is serving a 21-year sentence of preventive detention under the highest security conditions at Telemark prison in Skien, about two hours from Oslo.
Breivik claimed his human rights had been violated because of extended periods of isolation. During court proceedings, he complained about conditions spanning from strip searches to the quality of the prison food.
Although in solitary confinement, the inmate has access to three cells, equipped with two showers, a television with a DVD player, an X-box, a Playstation and a treadmill. Breivik can move freely between the cells, though they're separated from the rest of the institution.
Breivik has no regular human contact other than during the guard's hourly inspection. His contact with other people is limited to prison employees, a priest, health personnel and his lawyer. Visitors have to speak to him through a glass wall. He is allowed one hour outside every day in an isolated yard.
The government hasn't yet decided whether it will appeal, its lawyer, Marius Emberland, said on TV2. Until the verdict is enforceable, it's unclear what consequences it could have for Breivik's detention conditions, he said.
Breivik's lawyer, Oeystein Storrvik, said in an interview on TV2 that they aren't going to appeal the decision on Article 8. He also called for an end to Breivik's isolation.
The state was also ruled to pay the plaintiff's legal fees of about 331,000 kroner ($41,000). The proceeding was held in Skien prison on April 15-18.
The parties have a month to decide whether to appeal, Schjoedt's Horn said.
Before it's here, it's on the Bloomberg Terminal.
LEARN MORE