Draghi Can Argue Glass Is Half Full as ECB Pumps Up Stimulus
by and
Unemployment is falling and euro-area growth is continuing

Inflation won't return to the ECB's goal any time soon though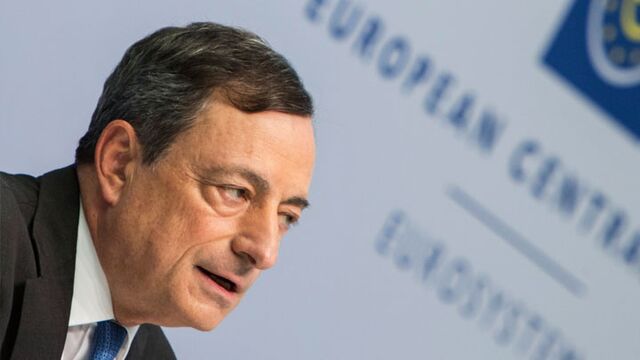 If Mario Draghi wants to tell the world that European Central Bank stimulus is working, he might even have some evidence to show it.
With no new measures expected at Thursday's monetary-policy meeting, the ECB president may use his press conference to point to signs that negative rates, free bank loans and a 1.7 trillion-euro ($1.9 trillion) bond-buying program should be enough to revive euro-area inflation. Price expectations are still weak, but indicators including unemployment and the output gap give him a more convincing case.
"Draghi can take comfort from the resilience in the real economy," said Gilles Moec, an economist at Bank of America Merrill Lynch in London. "The additional measures announced in March should also gradually work their way through."
The euro-area jobless rate slid to the lowest level in more than four years in February to 10.3 percent. While that's still more than double the U.S. rate, and masks far higher levels in peripheral member states such as Spain, it's coming down faster than economists had predicted. In fact, it's close to erasing its climb since the outbreak of the debt crisis that almost ripped the single currency area apart.

"The euro-area recovery doesn't seem to be accelerating or decelerating but some indicators are looking better," said Bloomberg Intelligence economist Maxime Sbaihi. The unemployment decline is "an achievement that is widely overlooked. Draghi can showcase that as a proof that things are looking better and that the recovery is reaching households."
The ECB will announce its policy stance at 1:45 p.m. in Frankfurt, with the president speaking to reporters 45 minutes later. Economists in a Bloomberg survey predict the benchmark rate will be held at zero, and the deposit rate at minus 0.4 percent. Both rates were cut at the last meeting in March and bond purchases were increased by a third to 80 billion euros a month.
Highlighting the global challenges policy makers face attempting to rekindling inflation, Sweden's central bank said on Thursday it will buy more bonds to drive down longer yields. The Riksbank kept its benchmark repo rate at minus 0.5 percent.
Draghi has a track record of claiming his monetary measures are having a rapid impact. In March 2015, he said a package including quantitative-easing that he'd announced six weeks earlier was already having a positive effect on credit conditions -- before the bond purchases even started.
The ECB's Bank Lending Survey published on Tuesday suggests that conditions for company loans are still easing. Corporate loan demand last quarter was partly for investment, a key criteria if the 19-nation currency bloc's recovery is to continue.

Credit conditions could get even easier as aspects of the ECB's latest stimulus package are implemented. A second long-term loan program for banks known as TLTRO-2, due to start in June, could see banks paid to take central-bank money and lend it to the real economy. The corporate debt market should get a lift when the ECB buys those securities under QE. The program is scheduled to start late in the second quarter, with many of the technical details yet to be announced.
"It's undoubtedly the case that part of the resilience in Europe, and the fact that we've been able to offset the slow external environment, is the fact that the ECB has been successful at depreciating the currency and easing financial conditions," said James Nixon, an economist at Oxford Economics Ltd. in London. "We are expecting fairly solid first-quarter growth."
The euro was little changed at $1.1309 at 12:57 p.m. Frankfurt time. While that's near a six-month high, it's still down from almost $1.40 two years ago, just before the ECB started its negative-rate policy.
Economic-growth figures in coming weeks should reveal a 12th straight quarter of expansion that continues to narrow the gap between actual and potential euro-area output.

Closing the output gap is critical for addressing what has so far been the ECB's biggest black mark: the fact that it has fallen short of its mandate to ensure price stability, defined as medium-term inflation of just under 2 percent, for more than three years.
Inflation was zero last month, and while the ECB predicts it will average 1.6 percent in 2018, and oil prices are recovering faster than assumed, the central bank has repeatedly had to revise its projections lower. A market-based measure of consumer-price expectations offers no strong grounds for optimism.

With inflation lacking despite massive monetary stimulus, the ECB is open to attack from savers burdened by low rates and critics fearful that its policies are destabilizing the region. German Finance Minister Wolfgang Schaeuble went so far this month as to say Draghi shares the blame for the rise of right-wing populist parties such as the Alternative for Germany.
Schaeuble later called the ECB president a "friend" after the two men had dinner in Washington. Even so, the criticism reflects mounting political pressure on central-bank independence that Draghi may wish to address at his press conference.
"He should stay calm, confident, consistent with the message he has been sending over the past few months and quarters," Frederik Ducrozet, senior economist for Europe at Pictet Wealth Management in Geneva, said in a Bloomberg Television interview. "I'm not saying he will have an easy ride today, but definitely I think he should stick with his own message."
Before it's here, it's on the Bloomberg Terminal.
LEARN MORE