Coca-Cola Underwhelms Investors Seeking Faster Turnaround
by
Earnings top analysts' estimates while sales meet projections

Beverage maker is trimming costs and increasing prices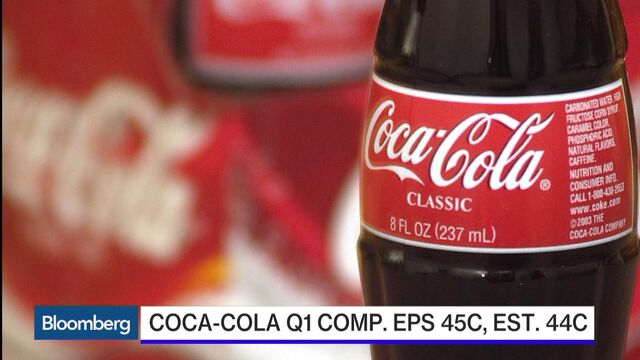 Coca-Cola Co. posted first-quarter results that mostly met analysts' expectations, underwhelming investors who'd been optimistic that a stronger turnaround was taking hold.
Earnings were 45 cents a share, excluding some items, the Atlanta-based company said in a statement on Wednesday. Analysts estimated 44 cents, on average. Sales fell 4 percent to $10.3 billion, matching analysts' average projection.

The results show Coca-Cola's strategy of cost cuts and price increases is paying off, just not fast enough for some investors' liking. While Chief Executive Officer Muhtar Kent has made progress by revamping the company's bottling system and starting a $3 billion productivity program, the maker of Diet Coke and Fanta is continuing to struggle with health-conscious consumers' shift away from drinking soda.
"The penny beat on the bottom line is perhaps not as encouraging as one might expect, because you've got some softness on the top line," said Vivien Azer, an analyst at Cowen & Co. "We view soda as the new cigarette, which would result in that category, and Coke in particular, realizing structural volume declines from here on out."
Sales volume for Coca-Cola's sparkling beverages was little changed in the quarter, while noncarbonated beverages gained 7 percent.
Shares of Coca-Cola fell as much as 4.9 percent to $44.30 in New York trading, the biggest intraday decline since August. The stock was up 8.5 percent this year through Tuesday, beating the 2.8 percent gain for the Standard & Poor's 500 Index.
Currency Effects
Coca-Cola is facing currency headwinds abroad and declining soda consumption at home. To combat those trends, the company has introduced smaller bottles and cans that cost more per ounce of liquid than traditional cans and bottles. The efforts have helped somewhat. Coca-Cola's operating margin, excluding currency effects and other items, expanded to 24.8 percent from 23.4 percent. Still, net income fell 4.8 percent to $1.48 billion, or 34 cents a share.
In a bid to improve earnings, Kent has been divesting asset-heavy bottling operations, which lets Coca-Cola focus on the more profitable business of selling concentrates and syrups to the companies that manufacture, package and distribute the drinks. Coca-Cola announced more progress on that front Wednesday, saying it is selling territory to three existing bottlers and one newly formed bottler, led by former National Basketball Association player Ulysses "Junior" Bridgeman. To date, the beverage giant has transferred or signed agreements for about two-thirds of company-owned bottling systems.
Coca-Cola, which makes Simply juices and Honest Tea, also is putting a greater focus on noncarbonated drinks. And just ahead of earnings, the company announced a new marketing initiative that will combine all of its namesake sodas into one brand. Coca-Cola Classic, Diet Coke, Coke Zero and Coke Life will be part of the campaign, which will start in Mexico.
"Things are truly getting better at Coke, and the underlying improvement in fundamentals has created a positive marginal change story, which we think is why the stock has outperformed," John Faucher, an analyst at JPMorgan Chase & Co., wrote in a note before the results were released. "That said, with valuation moving higher and earnings likely flat to down until the back half of 2017 as a result of the bottler refranchising, we see limited room for further upside from here."
Before it's here, it's on the Bloomberg Terminal.
LEARN MORE