China's Gold Miners Come of Age to Scour Globe for Acquisitions
Bloomberg News
Biggest producers look overseas as western miners struggle

China ``aggressively looking at opportunities:'' Hanking CEO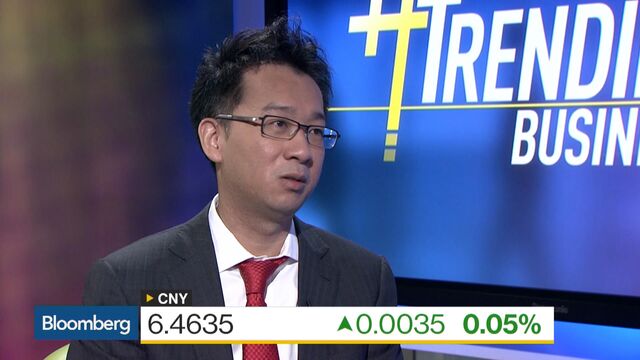 China's gold miners plan to extend the biggest buying spree in four years as the nation seeks greater clout in the global bullion industry. The prospect may be helping drive up the price of assets from Australia to the U.S.
Some of the country's top producers say they want to build on last year's spree, when the nation spent the most on overseas gold assets since 2011. Overseas deals by companies based in mainland China in 2015 quadrupled from the year before to $483 million according to data compiled by Bloomberg. Bigger groups including Zijin Mining Group Co., Zhaojin Mining Industry Co. and Shandong Gold Group Co. have led a wave of domestic consolidation that's amounted to $5 billion of takeovers in the past five years.

China is the world's biggest producer and user of gold and started a price fixing in Shanghai this week as it attempts to establish a regional benchmark and bolster its influence in the global market. With limited domestic resources and growing demand, Chinese companies are looking to snap up overseas assets as prices rebound after touching the lowest in almost 6 years in December.
"A healthy gold price environment always spurs activity, but maybe a bigger factor is the coming-of-age of gold companies in China," said Peter Grosskopf, chief executive officer of Sprott Inc., the Canadian money manager that made its name investing in gold. "They are acquisitive, all the Chinese companies are. As they start to look overseas that will be a bigger factor for M&A than the gold price," he said in an interview in Hong Kong this month.
Gold has rallied 17 percent in 2016, snapping three years of losses, as investors scale back expectations for U.S. interest-rate rises and financial-market turmoil spurs traditional haven demand. It's been one of the best performing commodities amid a downturn that has seen the largest miners slash costs and sell assets to weather a broader rout in metals prices.
Good Opportunity
Zijin Mining, China's biggest gold company by market value, sees more opportunities in the current cycle. "Global mining companies are selling high quality assets right now, so this is a rare chance for Chinese investors including Zijin to acquire first-tier assets," Chairman Chen Jinghe said in an e-mailed response to questions. Zijin has accounted for most of China's outbound gold investment, last year purchasing a 50 percent stake in Barrick Gold Corp.'s Porgera operation in Papua New Guinea for $298 million.
"Global mining giants are facing various challenges amid a commodity downturn, this will largely reduce their competitiveness and willingness for M&A, which will be a good opportunity for Zijin and other Chinese investors," he said. "Chinese mining companies' domestic development is limited by domestic resources, and the future, the hope lies overseas. If Chinese mining companies failed to grasp the opportunity in this round of the commodity downturn, it will be a big failure."
Zijin rose 2 percent in Hong Kong to HK$2.51 a share, up 24 percent for the year.
Aggressive Search
Gold prices remain well below the 2011 high of $1,921 an ounce, and China is timing its interest as established western miners look to offload assets. Spot gold traded at $1,259.10 an ounce at 4:35 p.m. in Singapore on Thursday.
Better stock valuations are "partly because more and more Chinese companies are aggressively looking at opportunities, and looking around overseas to buy or consolidate assets," according to Pan Guocheng, chief executive officer of China Hanking. Predominantly an iron ore and nickel producer, Hanking is planning to conduct an initial public offering for its gold projects in Australia.
"We are very aggressively and actively looking for good, high-quality gold assets which are going to add additional value to our existing portfolio," Pan said in an interview in Hong Kong this month. "We'll focus on the IPO first. As soon as that is completed, then we'll be in better shape for acquisitions. We want to establish our presence in the Australian capital market and get the investor community to support more acquisitions."
Golden Window
Zhaojin Mining Industry Co., the fourth-biggest producer by domestic output, reckons the gold price is at the bottom of the current cycle, opening a window of opportunity over the next couple of years for acquisitions.
"Now the price is at the bottom, we want to perform some financial investments," Chairman Weng Zhanbin told a conference in Hong Kong this month. "We have been executing our plan from the second half of last year. We could combine our management and technological advantage with good resources globally in order to build our global presence."
"When it comes to international M&A, we still have a long way to go, but now is the time for us to plant our seeds," he said.
Shandong Gold Group Co., China's No. 2 producer by output, is also seeking to expand overseas to feed rising local demand, its general manager, Li Guohong, said in an interview in Shanghai. Its focus is both across the One Belt One Road region -- covering Asia, Europe and Africa -- and North America, he said.