business
Cameron Attacks London Mayor Candidate Khan for Links to Imam
By and
`Right' to question Labour candidate's judgment, premier says

Khan leads Tory candidate Goldsmith before May 5 vote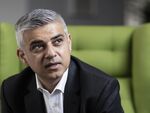 U.K. Prime Minister David Cameron took the increasingly bitter battle for the London mayoralty into Parliament by questioning the judgment of the opposition Labour Party's candidate, Sadiq Khan, for appearing together with an imam whom the premier said supports Islamic State.
Khan, who was a human-rights lawyer before entering Parliament in 2005, has shared a platform with Sulaiman Ghani, a local Muslim cleric, nine times, Cameron told the House of Commons, to loud condemnation by Labour lawmakers.
"This man supports IS," Cameron said of the imam during his weekly question-and-answer session on Wednesday. "They are shouting down this point because they don't want to hear the truth. Anyone can make a mistake about who they appear on a platform with. We're not always responsible for what our political opponents say. But if you do it time after time after time, it is right to question your judgment."
Khan currently leads Cameron's Conservative Party candidate, Zac Goldsmith, in polls ahead of the May 5 vote to replace London Mayor Boris Johnson, a Tory who bucked the trend by winning control of Labour-leaning London for two consecutive four-year terms. Goldsmith has sought to play up the links between Khan, a Muslim, and Islamist clerics, while also repeatedly calling him "radical." That's led Khan to accuse his opponent of running a "divisive" campaign.
'Dirty Politics'
Ghani said on Tuesday on his Facebook page that a television host who had said the imam supported Islamic State "defamed and slandered me." He has also posted on Facebook and on Twitter a photo of him standing alongside Goldsmith, with the caption "Oh no, I just read that Zac apparently calls me 'one of the most repellent figures in this country.' Dirty politics." Photos published by the Politics.co.uk website also showed Ghani with other Tory lawmakers.
Cameron's remarks led to a slew of tweets from Labour lawmakers, with former Labour leadership candidate Yvette Cooper saying the premier had stooped to a "shameful new low joining Goldsmith campaign smears," while the party's former business spokesman, Chuka Umunna, said: "PM's comments seek to shift the London mayoral campaign from housing and transport -- on which Sadiq is winning -- to religion."
Khan, who represents a south London district in Parliament, also took to Twitter, saying he was "disappointed" that Cameron "has joined Zac Goldsmith's divisive, dog-whistling campaign. I've fought extremism all my life."
"If we are going to condemn not just violent extremism, but also the extremism that seeks to justify violence in any way, it is very important that we do not back these people and we do not appear on platforms with them," Cameron said.
An Opinium poll for the Evening Standard newspaper published on April 4 showed Khan leading Goldsmith by 9 percentage points when second-preference votes are counted.
Before it's here, it's on the Bloomberg Terminal.
LEARN MORE