Brazil's President-in-Waiting, a Political Insider, Is Preparing
by
Vice President Temer has been talking to investors and allies

He favors fiscal reform and lower spending. Can he succeed?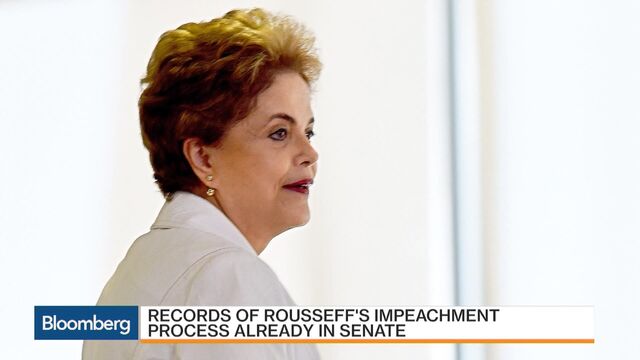 Brazilian politics has, for the past 13 years of Workers' Party rule, been run by those evincing a street-savvy populism. Now a very different character is poised to become president, in some ways a throwback to an earlier era, an inside operator and deal maker with strong ties to the investment community.
Vice President Michel Temer, a 75-year-old constitutional lawyer who has spent decades inside the halls and institutions of public life, helped push the vote by the lower house of Congress toward the impeachment of President Dilma Rousseff. Following last-minute wooing of Rousseff's allies, Temer has decamped to Sao Paulo to start composing his cabinet. 
His strategy at times has been unconventional. An audio clip of Temer practicing what he would tell the nation after an impeachment vote was sent to close advisers before the vote and found its way into local papers, seemingly embarrassing him. While his press office said it was unintentional, it served a purpose because it made clear he would preserve popular social programs, refuting a government claim about his plans.
Lacking the popular appeal of former Workers' Party President Luiz Inacio Lula da Silva, Temer is hoping his early policies will show small economic improvements quickly enough to win over recession-weary Brazilians, according to Cristiano Noronha, vice president of Arko Advice, a consulting firm.
Experience
"Part of Brazil's crisis stems from tension between the president and the legislature," Noronha said. While other challenges remain, he added, "at least this element will be improved with someone of Temer's experience."
Rousseff vowed on Monday to fight the impeachment that now goes to a special Senate committee tasked with preparing a report accepting or rejecting the charges. If the process goes to the Senate floor, Rousseff will have to step aside at least temporarily and make room for Temer.
Brazilian executives who were denied audiences with Rousseff often sought out Temer, who for most of her first term played a largely symbolic role in her government. It was only after their reelection in 2014, when Rousseff needed Congress to approve unpopular austerity measures, that she tapped into Temer's political connections, especially with his Brazilian Democratic Movement Party that controls the lower house and the Senate.
Those connections and some of Sunday's 367 pro-impeachment votes will be the foundation upon which Temer plans to build his economic reforms, which include establishing a congressional budget authority to evaluate spending on public programs, raising the minimum retirement age and reducing the number of public payments indexed to inflation.
Consultations, Candidates
Temer has consulted former central bank directors Arminio Fraga and Henrique Meirelles to sharpen policy proposals, and has sought the advice of Marcos Lisboa, former Itau director and Finance Ministry secretary, and Paulo Rabello de Castro, a University of Chicago-trained economist and chairman of rating company SR Rating, according to a person with direct knowledge of the conversations.
Temer is spending the week in Sao Paulo, discussing cabinet candidates who will both secure political allegiance and implement his party's reform agenda, according to a person who asked not to be named because the information isn't public. He was planning to watch Sunday's vote in Sao Paulo but returned to Brasilia to reassure allies unnerved by a last-minute government offensive.
As the votes were cast in favor of Rousseff's ouster, the person who most stands to benefit followed the session with his family and closest advisers. A fellow party member snapped a cell phone photo of him grinning at the TV, giving the impression of a celebration at the official residence of the vice president.
Rousseff on Tuesday accused Temer of "conspiracy," and said the impeachment process is an attempt to stage indirect elections.
"We need to understand that this isn't going to bring political stability for the country because it breaks with the foundation of democracy," Rousseff said.
Rousseff's Last Hope
Rousseff's last hope for preventing her impeachment is Renan Calheiros, the head of the Senate who has in the past challenged Temer's ability to unite their PMDB party, much less the country. Calheiros has been one of the PMDB chiefs most willing to play along with the government, even as the rest of the party was pushing to cut coalition ties.
Another variable is the two-year corruption investigation known as Carwash, that has imprisoned top executives and politicians. There's a nervous tension in Brasilia with the expectation that anyone -- ally or enemy -- could be arrested next.
Sergio Moro, the federal judge in Parana state overseeing the investigation, has become the hero of the pro-impeachment protesters. Any sign that Temer is tampering with the investigation could turn public opinion even more strongly against him.
"The slightest indication that the anti-corruption drive is slowing or losing traction would be lethal," Nicholas Spiro, a partner at Lauressa Advisory Ltd., said.
Temer this month refuted allegations that he also signed executive decrees similar to those for which Rousseff could be impeached. Temer has been cited in the plea bargain testimony of the corruption probe, but is not under investigation. He denies any wrongdoing.
Bury The Investigation?
As part of their strategy to de-legitimize the impeachment process, Rousseff's allies have explicitly suggested that Temer would snuff out the corruption investigation, in part to protect fellow party members such as Eduardo Cunha, the speaker of the lower house charged with hiding illicit money in Swiss banks. As Cunha himself presided over the impeachment vote, he was one of the figures most criticized by those voting for and against Rousseff's ouster.
During Sunday's session, lawmakers gave all kinds of reasons -- God, their grandchildren, democracy, economic recovery -- for casting their vote "yes" for impeachment. In the break room behind the chamber, in congratulatory conversations over late night coffee, it became clear that for many politicians, a vote for impeachment was really a vote for Temer.
"This change will give the economy a bit of breathing room," Paulo Abi-Ackel, of the opposition PSDB party, said over coffee before casting his vote. "Temer will have about 100 days of honeymoon. That's when he must ask for his reforms."
Before it's here, it's on the Bloomberg Terminal.
LEARN MORE