Bill Gross Didn't Wait for Impeachment Vote to Exit Brazil Trade
by and
Gross's Janus fund cut Brazil exposure from top 10 in March

Brazil's lower house voted to impeach Rousseff on Sunday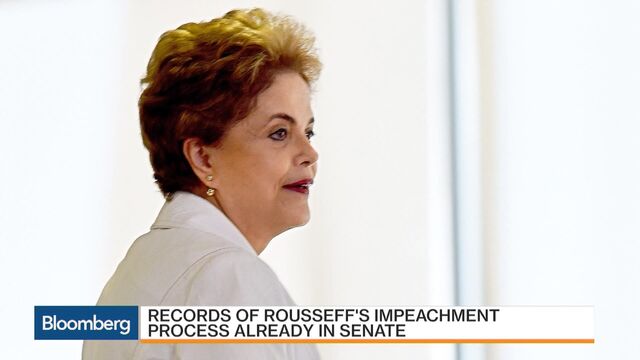 Weeks before lawmakers voted to impeach President Dilma Rousseff, longtime bulls such as Bill Gross began souring on Brazil.
The decision is proving to be prescient.
In March, Gross pared his exposure to Brazil in the derivatives market, which had been among the top 10 positions in his $1.3 billion Janus Global Unconstrained Bond Fund in recent months and one of his better trades. Before surging in April, Brazil's short-term credit risk based on default swaps had plummeted over the previous six months.

The 72-year-old billionaire's move reflects growing concern among investors that the government will struggle to repair its finances and pull the economy out of its worst recession in a century, even if Rousseff is ultimately ousted. After the lower house voted to remove her from office on Sunday, the Senate must now agree to try her. Signs that Gross was changing his views emerged in February, when he described Brazil's decision to borrow at high interest rates while its economy shrank as a "death sentence."
"After pricing in some optimism between December and February, the markets settled down to wait for the political process," said Paul Christopher, the St. Louis-based head global market strategist for Wells Fargo Investment Institute, which oversees $1.7 trillion. "There is also some growing appreciation that a fast turnaround in the Brazilian markets is unlikely, no matter the result."
Janus spokeswoman Erin Passan didn't respond to requests for comment on the holdings or the fund's investment strategy.
Janus didn't make public any holdings beyond the fund's top 10 and it's unclear if Gross abandoned his position in Brazil credit-default swaps due in March and June last month, let some of the contracts expire, or pared his positions.
Gross had been a counter-party on credit-default swap contracts held by investors betting Brazil's sovereign debt risk will increase. As a seller of the protection he benefited from any improvement in Brazil's credit quality.
So far this year, the Janus Global Unconstrained Bond Fund has outperformed 83 percent of peer unconstrained bond funds tracked by Bloomberg. After losing 0.4 percent last year, the fund has gained 2.6 percent in 2016, according to data compiled by Bloomberg. The fund has returned 1.7 percent since Gross took over in October 2014, the data show. While the fund may have positions in other Brazil credit-default swaps, they're not among its top 10 holdings.
Brazil's real rose 0.1 percent to 3.5284 per dollar at 4:52 p.m. in Sao Paulo.
If Brazil's Senate moves forward with the process to oust Rousseff, she will be temporarily removed from office until a final ruling is made. Political consultancy firm Eurasia Group says it's likely that the Senate will move forward with a trial.
While the process unfolds, things are only getting worse for Brazil. Latin America's biggest economy will contract 3.6 percent in 2016 after shrinking 3.8 percent last year. Rousseff's likely successor -- Vice President Michel Temer -- will also have to contend with the biggest budget deficit in two decades in a country paralyzed by gridlock.
The current political environment "undermines the implementation of fiscal or structural reforms that would restore growth and arrest the rise in debt burden," Moody's Investors Service analyst Samar Maziad said in e-mailed note.
Before it's here, it's on the Bloomberg Terminal.
LEARN MORE