New Zealand Won't Hold Off Rate Cuts for Long: Aussie Bulls
by
Swap traders see RBNZ's benchmark rate falling toward RBA's

ANZ, Westpac say Aussie may climb to N$1.15 this quarter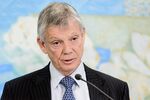 Aussie bulls say any pause in interest-rate cuts by New Zealand's central bank could be an opportunity to buy Australia's currency as the smaller nation will eventually be forced to lower borrowing costs.
The Aussie's climb against the kiwi stalled in the past month as economists predicted the Reserve Bank of New Zealand will hold its benchmark at 2.25 percent on April 28 after 1.25 percentage points of cuts. Traders are still betting that over six months New Zealand's interest rate will fall to within 10 basis points of Australia's, eroding the appeal of what has been a higher yielding currency for the past two years.
While RBNZ Governor Graeme Wheeler has shown he's ready and willing to ease, his Reserve Bank of Australia counterpart Glenn Stevens has signaled a reluctance to take rates down further. The two nations' outlooks have diverged partly as the price of iron ore, Australia's biggest export earner, surged 49 percent this year, while New Zealand's milk powder has fallen.

"If the Aussie dips against the kiwi in reaction to a steady RBNZ next week, it should find willing buyers eyeing the medium-term outlook," said Sean Callow, a senior foreign-exchange strategist at Westpac Banking Corp. in Sydney. "Both RBA and RBNZ have an easing bias, but RBNZ is assumed to be more likely to act."
The Australian dollar will probably climb 2.7 percent to NZ$1.15 as soon as this quarter, according to Australia & New Zealand Banking Group Ltd. and Westpac. That would be the strongest level since October 2013. Options prices show traders see a 71 percent chance the Aussie will reach that level by the end of the year.
Swaps Pricing
The Aussie surged 4 percent versus the kiwi from the start of February through mid-March, before retreating 0.8 percent to NZ$1.1201 as of 2:30 p.m. Thursday in Sydney.
Swaps traders see the RBA's key rate at 1.83 percent in six months, implying a 68 percent chance of a cut from the current 2 percent level. New Zealand's benchmark will be 1.93 percent, the data indicates.
It would take more than just one RBNZ reduction to propel the Aussie against the kiwi, said Sam Tuck, a senior currency strategist at ANZ's New Zealand unit in Auckland. The smaller economy's central bank will probably cut its benchmark two more times this year while the RBA remains on hold, he said.
Further Change
"Interest-rate markets have priced in rate convergence," Tuck said. "These are known factors and will need a further change."
After cutting the cash rate to a record on March 10, Wheeler said the benchmark may need to fall further as the global outlook weakens and local inflation expectations sink. New Zealand's annual inflation accelerated in the first quarter but remained beneath the 1-to-3 percent range the central bank targets.
Stevens, who has kept his benchmark rate unchanged for almost a year, is facing a currency that has climbed almost 12 percent versus the U.S. dollar in the past three months, threatening his push to broaden Australia's growth drivers.
"Australia seems more advanced in terms of the monetary cycle," said Callum Henderson, the head of global markets research at Eurasia Group. "Perhaps that's why people are looking for the Aussie-kiwi cross to come back."
Before it's here, it's on the Bloomberg Terminal.
LEARN MORE