One Economist Suggests Tax to Make Japan Inc. Spend Their Cash
by
Credit Suisse's Shirakawa calls for levy as last resort

SLJ Macro's Jen says companies must `spend it or lose it'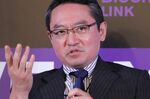 Japanese policy makers have taken extraordinary measures in recent years to yank the nation clear of deflation and create a better environment for businesses. They've had mixed results, and corporate Japan is yet to reciprocate with higher spending and wages.
That's prompted some analysts to suggest more radical ways of compelling companies to deploy their cash hoard on capital investment and salaries. Hiromichi Shirakawa, a former central bank official who is now chief Japan economist at the Credit Suisse Group, is at the forefront of the debate with his plan to tax corporate savings.
"We have to try this policy as a last resort for beating deflation," he said in an interview by telephone from Tokyo. "We have been suffering deflation for twenty years and the current policy is still not working."
Shirakawa's thinking goes like this: Corporate savings have swelled since Prime Minister Shinzo Abe came to power at the end of 2012 and unleashed fiscal stimulus and unprecedented monetary easing via the Bank of Japan. The ultra-loose policy weakened the yen, boosting profits for exporters. These earning must now be put to work. 

Kozo Yamamoto, one of the key members of Abe's brains-trust of reflationist advisers, thinks the idea is worth looking at. This month he called for more fiscal stimulus, a fresh round of easing from the central back and the consideration of a tax on corporate cash.
Imposing a 2 percent levy tax on cash and deposits of non-financial corporations could spur them to redirect enough money into investment to boost gross domestic product by 0.9 percent, according to one scenario explored by Shirakawa.
That's a significant bump given that GDP is likely to expand about 0.5 percent this calendar year, based on the median of forecasts compiled by Bloomberg. Meanwhile, the BOJ's preferred inflation gauge is hovering around zero.
Businesses remain wary of boosting investment, given Japan's low growth rate and the likelihood that the market for goods and services will contract as the population ages and declines.
While ruling party lawmakers responsible for tax policy say they're not currently looking at this option, the BOJ's recent adoption of negative interest rates may open the door wider than ever before. By introducing the concept of a tax on savings -- if only, for now, on a portion of cash that financial institutions park at the central bank -- the move could in time spur a broader debate about fiscal measures to force companies to spend more.

Stephen Jen, the co-founder of hedge fund SLJ Macro Partners LLP and a former IMF economist, also sees merit in the idea.
"Spend it or lose it," Jen said. "Right now, most of the profits are being hoarded by the large companies, which have benefited from Abenomics, but have been unwilling to pass on the profits."
In neighboring South Korea, the government last year introduced a term-limited tax on corporate income not deployed for investment, wages or dividends. The short history and a lack of government data on the effect on revenues makes it hard to assess the impact.
Shirakawa rated the odds of a corporate savings tax going ahead in Japan at 30 percent over the next five years. He's not deterred and said it's essential to get companies to make better use of their profits.
"We have to put an end to waste-of-time monetary policy actions," he said. "This will be the last try for the economy."
Before it's here, it's on the Bloomberg Terminal.
LEARN MORE