Qualcomm Falls on Concern Apple May Switch to Another Chipmaker
by and
Shares drop 2% after CEO comments on earnings call Wednesday

One of its `biggest customers' is going with a `second source'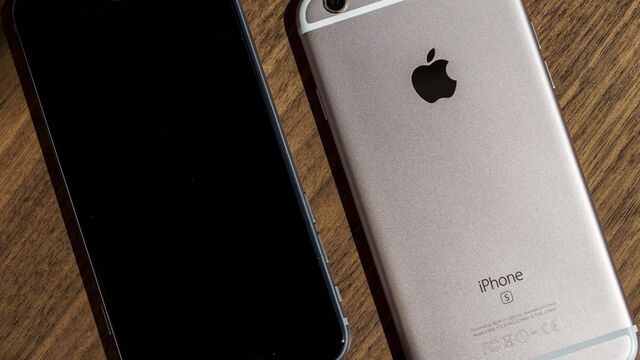 Apple Inc. may be going in a new direction for a crucial iPhone component that connects the handset to the Internet, and such a suggestion caused Qualcomm shares to tumble. 
Qualcomm Inc., the world's largest maker of chips that go inside smartphones, indicated on an earnings call Wednesday that it may be losing some orders from Apple for modem chips that link the iPhone to the web. Qualcomm Chief Executive Officer Steve Mollenkopf told analysts he is "assuming" that a major customer will give orders to a rival, indicating a potential loss of business for the company.  
Analysts said they think the customer is Apple. Apple and Samsung Electronics Co., are the San Diego-based chipmakers' biggest customers, according to data compiled by Bloomberg. Samsung already uses multiple suppliers, leaving only Apple to make this change.
Any switch Apple makes to suppliers that provide the components inside its devices can send ripples across the industry. Qualcomm's stock fell in extended trading after Mollenkopf made his comments. Analysts including Tim Arcuri at Cowen & Co. have speculated that Apple may be partnering with Intel Corp. for the modem chip inside the iPhone.
Qualcomm stock fell 2.5 percent, to $50.80, at 10:00 a.m. in New York Thursday. The shares were up 4.2 percent this year through Wednesday.
Mollenkopf made the comments in the context of assuring analysts that the company can deliver profit at the levels it has predicted even if its largest customers give some orders to other suppliers. 
Investor Expectation.
Investors didn't appear to be reassured.
"We think there is an element of investor expectation that they lose some business at Apple," said Sid Parakh, a fund manager for Becker Capital Management, which owns Qualcomm stock.
A Qualcomm spokesman said the company isn't commenting beyond what was said on the conference call. Apple declined to comment.
While other mobile phone makers use a combination of processor and modem, usually from Qualcomm, Apple designs its own processors and uses separate modems, which are chips that connect the phone to cellular networks.
Before it's here, it's on the Bloomberg Terminal.
LEARN MORE