America Is Losing Out to Russia in the Wheat Wars
The strong dollar, climate change, rising competition, and stagnant yields have toppled the U.S. from the top spot in wheat.
By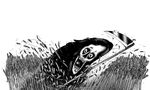 Paul Penner's winter wheat is poking through as the weather warms in Kansas, a state where the grain is part of the mythology. He grows about 300 acres of it and says profits depend on global markets. About two-fifths of the U.S. crop goes abroad, according to the Department of Agriculture.
While exports are important to U.S. farmers, U.S. grain has become less important to the world. A stronger dollar is making American wheat less competitive, and the U.S. may fall to third place among wheat exporters this year, behind Russia and Canada. In 2014, the U.S. was the No. 1 exporter. Wheat-sown acreage in the U.S. has fallen steadily for decades. Over time, U.S. wheat will have less sway over global markets. The result is a changed landscape for farmers like Penner—an ex-president of the National Association of Wheat Growers who this year plans to plant as much corn as wheat. "People are voting with their pocketbooks," says Penner, whose 660 acres are about 50 miles north of Wichita. In the 1970s, 90 percent of what he planted was wheat. "Our product remains very high-quality, but technology has improved for corn and soybeans. When you look at where you can make money, wheat is a less attractive choice."
U.S. wheat exports are projected to drop 9.3 percent this year, to 21.1 million metric tons, in the season ending May 31. That's the lowest since 1972, government data show. Stored domestic wheat, at a five-year high, discourages planting. Acreage for winter wheat fell to the second-lowest since 1913, according to the Agriculture Department.

Ukraine and Russia's Black Sea region boast some of the best land for wheat. Czarist Russia was the world's top shipper. By 1972, however, wheat production had fallen so far because of communist mismanagement that the Soviet Union had to buy from America.
Today, Russia is again the No. 1 exporter, while Ukraine is in fifth place. They're swallowing the Middle Eastern markets, once American wheat's top destination. The weather in Canada, the second-biggest exporter, has gotten warmer, resulting in longer growing seasons and bumper crops. Argentina, Australia, France, Germany, Kazakhstan, and players in Eastern Europe are stepping up shipments.
The result is an end to clear U.S. leadership in global markets, says Alan Tracy, president of U.S. Wheat Associates, the industry's export promotion arm. "We're no longer going to lead in volume every year," he says. "The saving grace for us is that total global wheat trade has increased, and we can still sell plenty of what our farmers produce."
Wheat lost some of its appeal for U.S. farmers because the grain has missed out on both the biotech and biofuels revolutions that have made corn and soybeans the preeminent crops. From 1990, the last time wheat acreage topped corn, to this year's forecast crop, wheat plantings fell 36 percent, to 49.6 million acres. Corn rose 26 percent, to 93.6 million acres, and soybeans increased 42 percent, to 82.2 million acres.
Almost all corn and soy in the U.S. since the late 1990s has been genetically modified (GM) to better combat pests and weather stress. The result is a boost in yields (bushels per acre) and profits. GM crops need less water, expanding the range for wheat's rivals to drier regions in the North and West.
Wheat can be genetically modified, too. But consumers don't want to eat staples such as bread that are based on genetically modified organisms (GMOs), and biotech wheat hasn't been approved for commercial sale anywhere in the world. That ban has prevented controversy but has also kept yields stagnant. "The wheat industry never wanted GMOs, because they worried about how consumers would react," says Allen Featherstone, an agricultural economist at Kansas State University in Manhattan. "You can see over time how it made farmers turn to other crops."
Quality U.S. wheat still commands a dollar a bushel more than rival wheat. "We're not selling a commodity so much as we're selling an ingredient" that bakes better in cookies, cakes, and high-quality breads, says U.S. Wheat Associates' Tracy.
While GMO adoption remains controversial, wheat lobbyists are calling for more federal research funding, as farmers and universities recognize that yields must increase. Nigeria and Indonesia, with their fast-growing markets, are becoming big buyers of American wheat, and the reliability of U.S. agriculture is a selling point. A Russian drought in 2010 triggered an export ban, leading to bread riots in Egypt and the Arab Spring in 2011.
Wheat will always be grown in regions that are too dry or cold for soybeans and corn, and the U.S. will remain a major exporter. But that doesn't mean the industry can continue on the same path, Penner says. "There's a point at which we won't be able to recover. I don't think we're at that point, but the competition is only going to get better."
The bottom line: The strong dollar, climate change, rising competition, and stagnant yields have toppled the U.S. from the top spot in wheat.
Before it's here, it's on the Bloomberg Terminal.
LEARN MORE