Who Needs Buybacks? One S&P 500 Variant Just Rallied to a Record
by and
The S&P 500 total return index reaches all-time high

Breadth is improving and equities' link to oil is loosening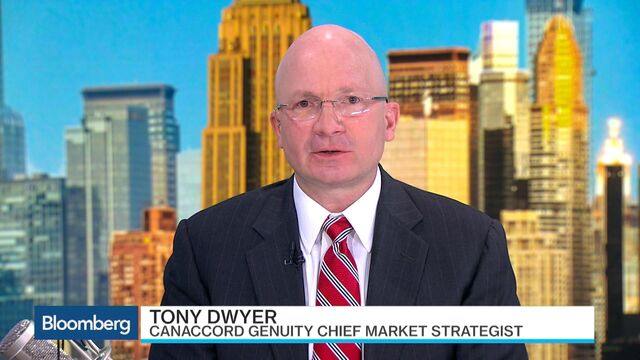 The rallying U.S. stock market just pushed one version of the Standard & Poor's 500 Index to an all-time high and has sent another within 2 points of its highest since July -- all during earnings season, when the biggest buyer supposedly goes missing.
Its fourth rally in five days sent the S&P 500 Total Return index, which incorporates dividends, to a record, bringing its advance since global equities bottomed in February to 15 percent. Another variant of the gauge which strips out market-value weightings is less than 0.2 percent away from erasing declines including last August's meltdown, after rising 17 percent in nine weeks.

Breadth is improving, money is flowing into equities and even fluctuations in the price of oil are failing to put a brake on a rally that has restored $2.8 trillion since mid-February. The S&P 500 has climbed 2.6 percent since Alcoa Inc. reported results, a move good for about $400 billion in market capitalization and the second-best start to an earnings season in three years. Futures on the S&P 500 rose 0.4 percent at 8:39 a.m. in New York.
"It's going to continue to run until there's some doubt again in terms of the economy," said Charlie Bilello, director of research at New York-based Pension Partners LLC. "The notion that the S&P needed buybacks to get close to new highs doesn't seem to be playing out."
Analysts including David Kostin, Goldman Sachs Group Inc. chief U.S. equity strategist, say most companies suspend repurchases during earnings season, putting corporate buybacks off the table for about five weeks. Two groups of buyers have emerged to pick up the slack: customers of exchange-traded funds and short sellers.
Last week saw five consecutive days of inflows into the biggest fund tracking the S&P 500, the longest such stretch in seven months.
Meanwhile, short sellers have been covering positions since bets that the economy was headed toward recession didn't pan out. A Goldman Sachs gauge of the most-shorted companies in the Russell 3000 Index has climbed 32 percent since Feb. 11. Short interest in S&P 500 members averaged 3.1 percent of shares available as of Monday, according to Markit Ltd. data compiled by Bloomberg. The level touched 3.5 percent in mid-February, the highest since at least 2011.
The number of stocks going up has increased. Since the Feb. 11 bottom, the S&P 500's equal-weighted gauge, a proxy for breadth since smaller companies have as much influence as large, has outpaced its market-weighted counterpart by 2.9 percentage points. Digging into the 10 main industries and all but one, consumer staples, are performing better on an equal-weighted basis over the stretch.
That bodes well for the rally, according to Bilello's research.
"One of the real paradoxes of the market is that you tend to see positive returns from extremely weak breadth and extremely strong breadth," he said.
Also helping is a loosening in a relationship that has dashed rally after rally for the past 11 months -- oil and stocks. The commodity has climbed more than 8 percent this year compared with a 2.5 percent gain in the S&P 500. At the same time, the correlation between the assets in the last 30 days has weakened to 0.42 from a four-year high of 0.96 on March 26, according to data compiled by Bloomberg.
"The stabilization of oil has certainly helped," said Bill Schultz, who oversees $1.2 billion as chief investment officer at McQueen, Ball & Associates Inc. in Bethlehem, Pennsylvania. "As long as oil can hold in this range, I think we're OK."
Gains over the last week are something less than an all-clear signal for the whole earnings season, according to Matt Maley, an equity strategist at Miller Tabak & Co., who said expectations for banks were so weak that a rebound in that sector isn't surprising.
Among the seven sectors in the S&P 500 that are expected to report smaller profits this quarter, financial companies were the only group whose shares fell heading into earnings. The group lost 7.3 percent through April 11 and have rallied 4.5 percent since, more than any other industry.
"These banks have beaten expectations and that's great, but the stocks were down so the bad numbers were priced in," Maley said by phone. "The problem is with the other groups. The bar has been lowered in terms of earnings but it hasn't been priced into other stocks. Even though estimates are low the stocks have rallied."

While economists have ratcheted down odds for a U.S. recession, economic reports haven't been unilaterally positive. Sales at U.S. retailers unexpectedly fell in March, as did consumer sentiment, while weaker factory orders suggest business investment will be a drag on growth.
"Mr. Market believes that we have earnings growth or that it's just around the corner, which we remain skeptical of," said Joseph Betlej, vice president of St. Paul, Minnesota-based Advantus Capital Management, which oversees $18 billion. "Look at the consensus for earnings relative to what might be implied with earnings growth. When you compare that to where the market is going, it's an interesting conundrum."
Still, history could be on the side of the bulls, as April historically is the strongest calendar month for equities. In the past 20 years, the S&P 500 has risen an average of almost 2.1 percent during this month and has posted gains 15 times. Be it short-covering or buying by individuals, more money in the market has helped put the S&P 500 on track for it's second-strongest two-month rally since mid-2012.
"People that might've missed the boat on stocks earlier this year are being forced into the market to some degree here," Schultz said. "The question is how far it can go from here."
Before it's here, it's on the Bloomberg Terminal.
LEARN MORE