Vanguard Fed Up With `Last Look' Practice Pervading Currencies
by and
World's top mutual-fund firm shifts orders away from practice

Trading platforms implement policies to address concerns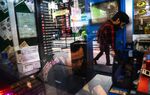 "Last look," the bygone-era practice that allows dealers in the $5.3 trillion-a-day currency market to back out of losing trades, is on its last legs, according to the world's largest mutual fund company.
Vanguard Group Inc. is shifting foreign-exchange orders away from trading venues that offer a last-second way for dealers to cancel transactions. Head of foreign-exchange trading Andy Maack expects the convention to be extinct within the next three to five years. Vanguard, which manages $3.4 trillion in assets, is monitoring data from trading platforms and banks for rejection rates, clarifying policies with market makers and using venues that offer firm prices as much as possible.
"It's really hard to police who's using it correctly and who's using it incorrectly, and in a malicious manner," Maack said from Malvern, Pennsylvania. "It's not an environment that is fair for the end-user," and some liquidity providers are already stepping back from the practice, he said.
Several currency trading platforms have curbed last look in recent months, and Barclays Plc agreed to pay $150 million in November for misconduct relating to the practice. The revelation was another black mark on an industry still recovering from a separate price-manipulation scandal that led to $9 billion in bank fines and penalties last year. Other money mangers including BlackRock Inc. and T. Rowe Price Group Inc. are also expressing concern with the practice.

Last look originated at the outset of computerized currency trading, when there was a time lag between when an order was entered and when it was executed, creating a risk that prices would move against a market maker before the transaction was completed. That time gap has since narrowed, but banks have retained the right to review deals before executing them. The option to reject trades can be abused, allowing some firms to glean the intentions of other participants or halt unprofitable trades.
Proponents argue it enables banks to narrow the difference between bid and ask prices offered to customers. The practice is widespread across the foreign exchange market, which trades 24 hours a day and doesn't neatly fit under the authority of any single regulator.
"The bank, or sell-side, rationale for last look has been catching illicit trades or harmful trading practices by the buy side," which could include latency arbitrage, Javier Paz, a senior analyst at Boston-based consulting firm Aite Group LLC, said by e-mail.
Issue Spotlight
After years of debate over the practice, last look was put in the spotlight in November after Barclays agreed to pay New York's banking regulator to resolve allegations of abusive practices. The London-based lender admitted unsafe and unsound conduct related to last look on its electronic trading platform and agreed to terminate the unit's head.
"Last look's time is over," said Dmitri Galinov, chief executive officer at currency platform Fastmatch Inc., in New York. "Clients now would like to operate in an environment with no last look and banks which are not allowing it anymore have a differentiating advantage when pitching," said Galinov, a former director at Credit Suisse Group AG.
While Fastmatch allows last look, it monitors market makers' use of the practice. If a bank rejects a statistically significant number of potentially loss-making trades during a month, it will be asked to review its procedures and possibly be removed from the platform, he said in December.
Trading Venues
Bloomberg LP, the parent of Bloomberg News, operates a multi-dealer trading platform for currencies called FXGO in which auto-priced liquidity is displayed via last look. Bloomberg Tradebook, Bloomberg's agency brokerage business, operates a separate platform in which pricing is displayed on a last look basis as long as the liquidity provider maintains a predetermined fill percentage and response time.
Bats Global Markets Inc., which runs the trading platform Hotspot, cut the time market makers have available to change their mind to 100 milliseconds, or a 10th of one second, from 200 milliseconds, last year. Thomson Reuters Corp. also shortened the time period for provisional liquidity on some of its electronic venues, and is giving more data to clients about how last look is used.
ParFX, created by Cie. Financiere Tradition SA, doesn't allow last look on its platform because it "potentially leaves the door open for disruptive trading practices," said Dan Marcus, the company's chief executive officer. Other non-last-look venues include Curex Group and LMAX Exchange.
"My hope is that, in a future state, last look is no longer a part of the market and all venues are firm liquidity," Vanguard's Maack said. "Any time that you know that liquidity is firm and the price is the same or better, then it's a no-brainer."
Before it's here, it's on the Bloomberg Terminal.
LEARN MORE