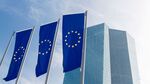 More credit is flowing to the euro-area economy. It's just not clear how much the European Central Bank's asset purchases are to thank for this.

The ECB's Bank Lending Survey for the first three months of 2016 showed that credit standards for loans to companies eased and that loan demand continued to pick up.

But reading deeper in the report, it emerges that quantitative easing -- which stands to pump at least 1.7 trillion euros ($1.93 trillion) into the region's financial system with liquidity -- is not the main driver of the expansion in credit.