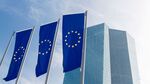 More credit is flowing to the euro-area economy. It's just not clear how much the European Central Bank's asset purchases are to thank for this.

The ECB's Bank Lending Survey for the first three months of 2016 showed that credit standards for loans to companies eased and that loan demand continued to pick up.

But reading deeper in the report, it emerges that quantitative easing -- which stands to pump at least 1.7 trillion euros ($1.93 trillion) into the region's financial system with liquidity -- is not the main driver of the expansion in credit.

As the chart shows, most banks say that the extra cash they receive is having basically no impact on their loan-granting decisions. For loans to companies, fewer banks now say QE liquidity is helping their lending than did so in October.

According to the ECB, the "net easing impact" of bond buying "appears to be stronger for terms and conditions than for the credit standards of euro area banks." In the survey banks also complain that quantitative easing is eating into their profits.

For Nordea analyst Tuuli Koivu, the results confirm that negative rates and QE are "complementary," so that "while the negative rates seem to have decreased the price of financing, the asset purchases have increased liquidity and thus lending volumes in the Euro area."

However, he adds, this effect should not be overestimated: "Any of the positive impacts should not be over exaggerated as the majority of banks considered the impacts only marginal."



Before it's here, it's on the Bloomberg Terminal.
LEARN MORE