This Tool Maps Transit, Block by Block, for 300 Cities
Buying a home? Locating a new business? AllTransit's data are voluminous and granular.
By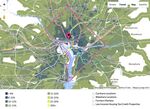 Surprise, Arizona, northwest of Phoenix, scores lowest among U.S. cities larger than 100,000 people in a ranking of transit systems, according to a new online tool launching Tuesday. The city of 124,000 pulled a 0.09 out of 10. If you don't have a car, you're walking.