This Is How Power Gets Its NYC Grit On
In a new podcast, Bloomberg and Vulture chat with TV and film creators working on location in New York.
Bloomberg News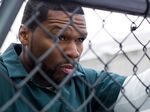 Subscribe to the City of Scenes podcast on iTunes
Subscribe to the City of Scenes podcast on Pocket Casts
The Starz series Power chronicles James "Ghost" St. Patrick's double life as a nightclub owner and drug kingpin in New York. The dialogue, tone, and all-around feel of the show, which will return for its third season this summer, has to be dead-on.
Creator and producer Courtney Kemp is "passionate about New York and New Yorkers," she says, while admittedly being the product of a J. Crew upbringing in Connecticut. She relies on the insight of her co-producer, New York rapper 50 Cent, to bring authenticity—and the perfect soundtrack—to the characters' lives.

Kemp also makes sure that the city's diversity is reflected in her writers' room and embodied by the actors, many of whom go to great lengths to master the dialects their roles demand. Time spent watching and listening to real people across various New York neighborhoods is a crucial part of the process. Power shoots in all five boroughs of the city, although fans will have to wait until season three to see Staten Island make its debut.
The City of Scenes podcast features television and film creators working on location in New York as the Tribeca Film Festival celebrates its 15th year. Here, Bloomberg Associates' Katherine Oliver (@kolivernyc) and Vulture's Kevin Lincoln (@KTLincoln) talk with Kemp about how a New York sensibility informs the stories, locations, and characters of Power. 
While Truth, the fictional nightclub featured on the show, is a set built at Steiner Studios in the Brooklyn Navy Yard, it takes its cue from such famous New York clubs as Marquee and Lavo. Then there are the practical details. To capture a scene under the suspended whale in the American Museum of Natural History, for instance, the crew had to shoot at 3 a.m. and wrap before the museum opened.
For the coming season, Kemp promises "way more violence, higher stakes, and shaking up the formula."
(
Corrects Courtney Kemp's name
)
Before it's here, it's on the Bloomberg Terminal.
LEARN MORE