Taliban Car Bomb Rips Kabul Killing 30; Hundreds Wounded
by
Largest terror attack this year, death toll expected to rise

Massive car bomb and gunfire targeted elite security agency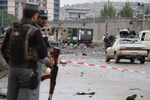 Taliban militants launched a deadly attack on an elite Afghan intelligence agency in central Kabul on Tuesday, killing about 30 people and leaving more than 320 wounded.
The coordinated attack that began with the detonation of a massive car bomb followed by almost four hours of gun battle outside the main gate of the security agency that provides personal protection to high-ranking Afghan government officials, Interior Ministry spokesman Sediq Sediqqi said by phone. Most of the victims were civilians.

At least two militants entered the compound and engaged with security personnel remaining inside in an assault that took place around 9 a.m. local time in the Pul-e-Mahmud Khan area, less than a mile from the Presidential Palace, rattling windows across central Kabul. Sediqqi said Afghan forces gunned down both the assailants. 
Spring Offensive
A Taliban spokesman, Zabihullah Mujahed, claimed responsibility for the explosion in an e-mailed statement, saying the group had targeted the agency with a truck laden with explosives before fighters entered the agency compound. The blast wounded more than 320 people, most of them civilians, said Ismail Kawasi, a spokesman for the Ministry of Public Health. 
The deadly bombing comes a week after the Taliban announced a spring offensive titled "Operation Omari," vowing to conduct several large-scale operations against Afghan and foreign forces.

President Ashraf Ghani strongly condemned the attack, terming it "cowardly," in an e-mailed statement. He said the Taliban could never undermine the will and determination of the Afghan people.
Tuesday's attack is the most devastating this year. On April 11, a Taliban suicide bomb in eastern Jalalabad killed 12 army recruits and wounded 38 people.
According to a report by the United Nations Assistance Mission in Afghanistan, at least 600 Afghan civilians were killed and 1,343 wounded in the three months through March.
Before it's here, it's on the Bloomberg Terminal.
LEARN MORE