Scandal Engulfs Spain's Biggest Party as Rajoy's Power Dwindles
by
PP in Valencia investigated for illegal party financing

Minister quit last week over Panama link to offshore firm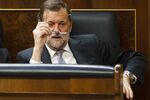 The Spanish justice system is closing in on caretaker Prime Minister Mariano Rajoy's party as its political power ebbs away.
Rajoy's People's Party has seen its Madrid offices searched by police, a group of senior Agriculture Ministry officials arrested for siphoning off public funds, and its Valencia chapter accused by a court of illegal campaign financing -- all since the governing party lost its absolute majority in December, ending a four-year lock on the legislature.
"We can't take any more," El Pais, Spain's leading daily, said in a Saturday editorial devoted to Rajoy's problems with corruption. "The PP needs to renew itself thoroughly, to reinvent itself, without Rajoy."
The courts are advancing more than two dozen criminal probes into PP officials and the party's financing as Rajoy, 61, clings on thanks to the divisions among his opponents after an inconclusive election result. Some cases date back more than 25 years to the founding of the modern PP, others have come to light during the political hiatus.
In the past week, a local mayor was arrested for tax fraud, a former regional president testified in court on a bribery probe, and a government minister resigned over links to an offshore firm in the Panama papers.
"The fact that some of the people being investigated aren't in power any longer makes it easier for the court cases to move ahead," said Elisa de la Nuez, general secretary of Hay Derecho, a Spanish foundation promoting judicial independence.

Rajoy, who says it's wrong to blame his whole party because of individual cases, is betting that Spain's political impasse will require a repeat election and offer him a chance to form a governing coalition as three rival parties, who control 199 of 350 lawmakers in the current legislature, struggle to forge a governing alliance before a May 2 deadline.
Royal Scandal
While Spanish judges in theory operate independently from the government, political control over appointments leaves courts vulnerable to outside influence. In a July survey of 1,285 active judges, 75 percent of respondents said the Judicial Council doesn't do enough to protect courts' independence and 9 percent of those ruling on corruption cases said they'd been subject to pressure.
Just one example: In 2014 Rajoy himself said in a television interview that he was "convinced" that Princess Cristina was innocent of corruption charges and that the court investigating her husband's business activities would clear her of wrongdoing.
Cristina is facing charges of tax evasion alongside the former PP president of the Balearic Islands in a trial that began in January.
A spokeswoman for Rajoy said at the time of the interview that he was simply expressing his personal opinion. She declined to comment when contacted by Bloomberg for this story. Spokesmen at the National Court and the Judicial Council declined to comment on whether the increase in court activity was linked to the shifting political situation.
Historic Allegations
The PP's traditional rivals, the Socialists, have their own problems with corruption, particularly in its southern power base of Andalusia. More than 200 people there, many of them regional Socialist officials, are being investigated by a court in Seville for allegedly embezzling unemployment benefits between 2000 and 2011.
The roll-call of PP officials who've been accused of involvement with illegal payments includes some of the most high profile figures in the party's history.
Rodrigo Rato, the former deputy prime minister who went on to head the International Monetary Fund, is facing trial for abusing his corporate credit card while head of Caja Madrid. Rato was accused, alongside Rajoy himself, of taking illegal cash payments by the former party treasurer, Luis Barcenas. The PP's past three treasurers have all been accused of involvement in corruption and National Court Judge Angel Hurtado said there is evidence that the party operated a secret slush fund for senior officials as far back as 1990. Rajoy hasn't been accused by any court and all three deny any wrongdoing.
More to Come
After Industry Minister Jose Manuel Soria quit Rajoy's cabinet on Friday after offering conflicting explanations of his involved with an offshore firm listed in the Panama leaks, El Pais said it was "grotesque, if not alarming" to think Rajoy would still have a role in the country's future.
The focus on corruption in the PP will only increase during the second half of this year with Barcenas due to stand trial in October. That case will focus on party's finances between 1999 and 2005.
"What we have seen so far is nothing compared with what we could see should Rajoy insist on staying in power," said Sergi Castillo, author of a Land of Pillage, a book about graft cases in Valencia. In the public perception, "a generation of PP politicians is going to be on trial," he said.
Before it's here, it's on the Bloomberg Terminal.
LEARN MORE