German Raids Target Right-Wing Group Accused of Refugee Attacks
by
Terrorist organization said to have targeted asylum shelters

Group used explosives near Dresden, one refugee injured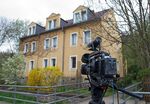 German police arrested five suspects on terrorism charges in raids on a right-wing group charged with attacking asylum shelters in the east of the country in the midst of Europe's refugee crisis.
Special federal police forces helped raid apartments centered in the town of Freital near Dresden early on Tuesday, swooping on an organization identified as the Freital Group that targeted at least two shelters with explosives between September and November of last year, the Federal Prosecutor's office said in a statement. Members of Germany's GSG-9 anti-terror security forces took part in the raids, N24 television reported.
"To what extent further attacks can be attributed to the right-wing terrorist organization Freital Group remains the subject of further investigation," the prosecutor said.
The attacks in Freital, in September and at the end of October, involved explosive devices, one of which led to facial injuries for a shelter resident. No deaths or severe injuries occurred because asylum seekers weren't near the explosions, prosecutors said. At the time, Germany was in the throes of its biggest refugee crisis since World War II.
The raids show that "the state is moving resolutely and in a timely fashion against right-wing terrorist structures and criminals," Interior Minister Thomas de Maiziere said in a statement. Four men and a woman, all German nationals, were taken into custody, according to federal prosecutors.
Germany's refugee debate blew into the open after riots last August at an asylum shelter in Heidenau outside Dresden. Chancellor Angela Merkel faced jeers and verbal abuse from onlookers when she visited the site the following week to condemn the violence, before embarking on her open-door policy toward refugees.
The five suspects, identified only by their first names and last initials, are linked with a wider organization that allegedly secured the incendiaries in the Czech Republic, the prosecutor said. Charges include attempted murder, assault, causing an explosion and property damage.
Before it's here, it's on the Bloomberg Terminal.
LEARN MORE