Dijsselbloem Quiet on Possible Candidacy in New Dutch Cabinet
by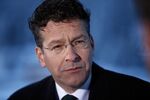 Dutch Finance Minister Jeroen Dijsselbloem won't say if he'll run for a seat in a new cabinet after elections are held in the Netherlands in March.
"The only thing I allow myself to dream about is to hang around in my vegetable garden -- the rest we'll see," Dijsselbloem said in an interview on Dutch broadcaster RLTZ. "I have no other thoughts."
Dijsselbloem, who also chairs the group of euro-area finance ministers, is working on the 2017 budget, his last of the legislature, ahead of the elections. "The budget won't be a celebration," he said, citing challenges due to lower income from state gas reserves, costs related to refugees and low interest rates.
"I'm not inclined to hand out presents in my last budget," Dijsselbloem said. "If this turns out to be my last budget, then for sure the budget must be neat."
According to a poll held by Ipsos last week, Dijsselbloem's Labor party would get only 13 seats in the 150-member Dutch parliament. This compares with the 38 seats it won in 2012.
Before it's here, it's on the Bloomberg Terminal.
LEARN MORE