Cries of a Baby Lead Family to Sleep in Car After Japan Quake
by , , and
Those who've left their homes might never be able to return

Companies donating instant noodles, water, diapers to victims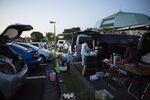 The nighttime cries of his two-week-old daughter caused Takuya Ichihara and his family to sleep in their car rather than at the evacuation center they've been calling home since the earthquakes struck southern Japan less than a week ago.
Ichihara, his wife, baby and 1-year-old son had joined hundreds of other victims in the center in Minami Aso, a village devastated by a series of large earthquakes in the prefecture of Kumamoto. They may never be able to return to their damaged home.

"Children cry in the night, so people wouldn't have been able to sleep well," said the 29-year-old company worker whose daughter, An, was napping in his arms. "We are spending nights in the car because I'm worried about what people think. I hope that my wife and children will be able to get to a relative's home soon."
Six days after the first earthquake struck, the 4,000 or so rescue workers are shifting their focus to caring for nearly 100,000 displaced people. They are distributing blankets, bottles of water and hundreds of thousands of meals to people like Ichihara.
The death toll from the quake reached 46 as of Tuesday, and only a few people remain unaccounted for. With the rescue effort complicated by strong aftershocks, those staying in the evacuation centers await word on when -- or if -- they can return to their homes. Kiyoto Kubo, a 52-year-old public servant in charge of the Kurokawa evacuation center in Minami Aso, said that with so many homes damaged people are starting to talk about leaving shelters for longer-term housing.
Nearly 1,000 homes have been destroyed, with more than double that figure damaged, according to Japan's Fire and Disaster Management Agency. The major earthquake and tsunami of 2011 show that it can take time to rehouse people, with almost 100,000 in the northeast part of Japan still not back in their homes more than five years later.
"Our home is now on an incline, and it will probably be difficult to live there again," Ichihara said. "I don't know what our future will be. I don't know how much it will cost to rebuild our home."
The disaster marks a big test for Prime Minister Shinzo Abe, whose government has responsibility for the recovery efforts just months before an election in the upper chamber of parliament. He may need to expedite spending for the devastated area, and analysts see him as more likely in the aftermath of the earthquake to postpone a planned increase in the nation's sales tax.
The premier will head to the devastated area as early as Thursday, the Sankei newspaper reported, citing unidentified government sources. Abe had been due to visit Kumamoto on Saturday -- two days after the first strong earthquake -- but canceled because of the more powerful quake early that morning.
Instant Noodles, Water
Companies are doing their part to help the evacuees. Nissin Foods Holdings Co. distributed 200,000 servings of instant noodles by Monday; Kao Corp. gave away hand soap and diapers for babies and adults; and Suntory Holdings Ltd. provided 210,000 bottles of water. Yamazaki Baking Co., which has a factory in Kumamoto, responded to government requests by dispensing 350,000 servings of bread and 80,000 rice balls, spokesman Takashi Nishio said.
About 1,700 troops from Japan's self-defense forces have been joined by the U.S. military in relief efforts. One Japanese officer, who asked not to be identified, said his unit had been searching for missing people for the past four days, and that saving lives had been the top priority.

Tomoki Matsumura, a 20-year-old student at the Minami Aso campus of Tokai University, became part of a relief effort. He was in his student housing building early Saturday when the earthquake struck and as he ran out of the collapsing building, he heard the cries of two people trapped inside. Emergency workers couldn't gain access to the area, so he and others rescued the trapped students. It haunts him still.
"At first I just wanted to go back" to his parents' house in Kumamoto "but I felt that I couldn't and I stuck around at the evacuation center to help out," Matsumura said. "The aftershocks are still going on, and I get very tense. I choke up when I'm alone."
Before it's here, it's on the Bloomberg Terminal.
LEARN MORE