China Sovereign Fund to Seek Control of $8 Billion Yum Unit
by , , and
CIC, KKR, Baring group interested in China's biggest chain

Local restaurant operators trail Yum's foreign brands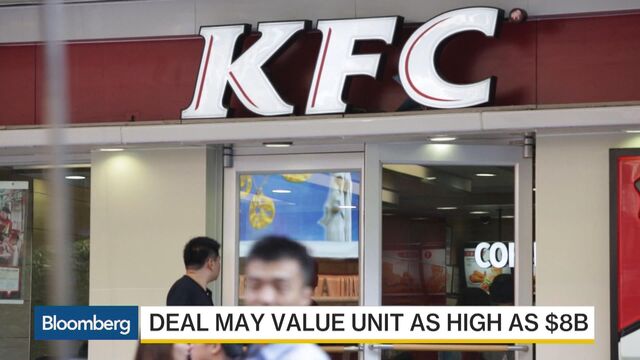 China wants to get control of the most popular fast-food chain in the country.
A consortium backed by sovereign fund China Investment Corp. has expressed interest in buying a majority stake in Yum! Brands Inc.'s China business, which runs more than 7,100 KFC and Pizza Hut eateries across the nation, people with knowledge of the matter said.
The investor group, which also includes KKR & Co. and Baring Private Equity Asia, is conducting due diligence on the unit, according to the people, who asked not to be identified as the information is private. A deal could value Yum! China at $7 billion to $8 billion, the people said.
Such an investment would provide Louisville, Kentucky-based Yum with cash that could be used to fund a dividend and its planned share buyback, as well as help reduce exposure to a business with shrinking market share, one of the people said. A majority purchase by the CIC consortium would give a domestic entity control of a leading fast-food chain in the Chinese market for the first time.
"It's a matter of this being the type of asset that comes up for sale very rarely and the Chinese have been looking all over the world for good buys," Ben Cavender, a Shanghai-based analyst at China Market Research Group, said Tuesday by phone. "Consumers are the bright spot in China right now."
The China-backed investor group is interested in buying as much as 100 percent of Yum China, two of the people said. Yum is considering all options, though it may still decide to pursue the sale of a minority stake or proceed with a previously announced tax-free spinoff of the business, according to the people. The company isn't currently running a formal sale process, one of the people said. 
Yum shares dropped 1.5 percent to $81.38 at 9:49 a.m. in New York. Through Monday's close, the stock had gained 13 percent this year, compared with a 5.8 percent gain for the Standard & Poor's 500 Restaurants Index.
State Investor
Singapore state fund Temasek Holdings Pte and Chinese investment firm Primavera Capital Ltd. are separately vying for stakes in Yum China, the people said. Beijing-based private equity firm Hopu Investment Management Co., led by dealmaker Fang Fenglei, was also considering a potential investment in Yum China, though deliberations are at an early stage, a person with knowledge of the matter said last month.
A representative for Yum said in an e-mailed statement the company continues to make "good progress" since it announced the separation of its China business, declining to comment further. CIC's Beijing-based press office didn't immediately reply to an e-mail seeking comment, while representatives for Baring and KKR declined to comment.
"We decline to comment on market speculation," Temasek said in an e-mailed statement. Fred Hu, the founder of Primavera, didn't answer several calls to his mobile phone seeking comment.
The performance of locally owned chains continues to trail foreign peers like KFC, which opened its first Chinese outlet in Beijing in 1987. The biggest home-grown operator, Hua Lai Shi Catering Management & Service Co., had a three percent market share last year compared to Yum's 24 percent, according to Euromonitor International.

Yum has lately seen its dominance in the world's second-largest economy wane, as its market share in the country has fallen from 39 percent in 2010, Euromonitor data show. The company plans to add 600 outlets this year to its more than 7,100 restaurants across China, according to its website.
"The business has not done so well lately, and same-store sales have slowed," Michelle Leung, chief executive officer of Xing Tai Capital Management Ltd. in Hong Kong, said by phone Tuesday. "I think Yum headquarters is eager to spin off to unlock value, and on the buyers' part, it's a good opportunity for working with a business that will eventually turn around with its dominant brand."
Activist Pressure
McDonald's Corp., Yum's biggest rival, has also been considering introducing a partner in its Chinese operations. The company said March 31 it's seeking franchise partners in mainland China, Hong Kong and South Korea to invest fresh capital and localize decision-making. McDonald's plans to add more than 1,500 restaurants in those markets over the next five years, on top of the existing 2,800 outlets, which are mostly company-owned.
Yum bowed to activist-investor pressure in October and agreed to separate its China business from its U.S. operations. Hedge fund manager Keith Meister, a protege of billionaire Carl Icahn, said Yum's Asian market could be better served with a more focused business. China accounted for about 53 percent of Yum's revenue last year, data compiled by Bloomberg show.
Temasek has pursued consumer and retail deals across Asia, joining a consortium to acquire Tesco Plc's Homeplus supermarket chain last year and buying a minority stake in Hong Kong retailer A.S. Watson & Co. for $5.7 billion in 2014. Investments in China made up 27 percent of its portfolio as of March 2015, the second-biggest country position after Singapore, according to its latest annual report.
Before it's here, it's on the Bloomberg Terminal.
LEARN MORE