Brazil's Temer Would Downsize Government If Rousseff Ousted
By
Temer is assembling cabinet, preparing for impeachment day

First task would be cutting ministries to trim the budget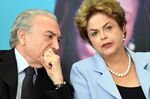 Brazil's Vice President Michel Temer intends to downsize the government, slash spending and replace most of the cabinet and heads of state companies if President Dilma Rousseff is impeached, according to person with direct knowledge of his plans.
Temer's first measures would be to reduce ministries by about a third, trim the number of civil servants, and cut current expenditures, according to the person who asked not to be named because the talks are confidential. He will first seek a finance minister and then assemble the rest of the cabinet around that post, including the central bank chief, the person said.
Following a lower house vote on Sunday in favor of Rousseff's impeachment, Temer has intensified talks at his private home in Sao Paulo this week with economists and political leaders to help shape policy and a cabinet.
The Senate could vote in mid-May whether to open impeachment hearings against the president, according a timeline that Senate chief Renan Calheiros presented on Tuesday. Rousseff would have to temporarily step down if the opposition garners a simple majority, which is widely expected. Temer would take over as acting president during her Senate trial and permanently take the country's reins if the opposition wins a final vote with a two-thirds majority. Rousseff has repeatedly vowed to fight against her ouster.
Temer is still considering former central bank chief Henrique Meirelles for the post of finance minister, although other names are under discussion as well, the person said. Temer also would replace current central bank chief Alexandre Tombini with someone with the profile of Ilan Goldfajn, a former central banker who is now the chief economist at Itau Unibanco Holding SA.
With a two-year corruption scandal reaching into every corner of Brazilian politics, Brazil's next justice minister must be someone universally respected and not seen as seeking to influence the probe, the person said. One possible candidate could be Carlos Ayres Britto, the former Supreme Court justice who is a personal friend of Temer.
A future Temer government would also replace the leadership of state oil company Petrobras, public banks Caixa Economica Federal and Banco do Brasil, as well as state development bank BNDES, the person said.