Brazil Central Bank Lets Real Rally After $32 Billion Swap Sale
by
Real leading gains among world major peers on Tuesday

Morgan Stanley says currency will weaken to 3.75 by year-end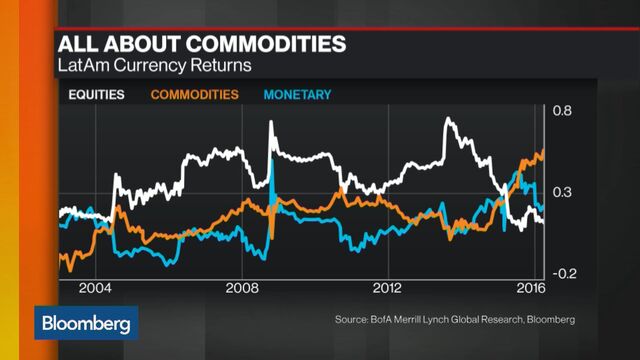 Brazil's real led gains among major peers as the central bank refrained from weakening the currency after selling $32.3 billion in reverse swaps over the past month.
The real rose 2.4 percent to 3.5322 per dollar on Tuesday, taking a breather from the central bank's auctions, which are equivalent to buying dollars in the futures market. Beginning March 21, policy makers re-introduced a program created in 2005 to prevent the real's appreciation from curtailing Brazilian exports. The total outstanding volume of contracts to support the currency tumbled to the lowest level since 2013.

"The absence of the central bank allows the currency to gain without barriers," said Cleber Alessie, a currency trader at H.Commcor DTVM in Sao Paulo. "Still, I don't believe they are trying to sustain a certain level. That could be a tough fight to keep up."
Traders have pushed up the value of Brazil's real by 12 percent this year, the most among the world's major currencies, on speculation that President Dilma Rousseff's ouster could pave the way for measures to revive Latin America's largest economy and tackle an exploding budget deficit. While the real was still able to appreciate over the past month even with the central bank's auctions, analysts bet the currency will decline from current levels by the end of this year.
And that's not only because of central bank's swap sales. Even if there's a change in the administration, fixing the economy won't be an easy task, according Morgan Stanley analysts Gordian Kemem and Meena Bassily.
"No matter who is governing Brazil, the country faces a series of difficult fiscal challenges which will require structural reform and political cohesion to overcome," they wrote in a note to clients, predicting the real will depreciate to 3.75 per dollar by the end of 2016. "The challenges facing the country remain high, and a weaker currency is likely to be a part of the adjustment process."
The real will depreciate 11 percent to 3.95 per dollar by the end of 2016, according to the average forecast of 51 analysts surveyed by Bloomberg. Brazil is mired in the deepest recession in a century as its consumer-led growth has run out of steam, the commodities boom is long over and exporters can expect little help from a slowing China. And there's also little scope for stimulus measures, with above-average inflation and a budget deficit that's swelled to the biggest in two decades during Rousseff's five-year tenure.
Gains in raw-material prices also boosted the real on Tuesday. The Bloomberg Commodity Index rallied 2.5 percent, the most since late August.
Before it's here, it's on the Bloomberg Terminal.
LEARN MORE