Brazil Could Vote Mid-May Whether to Temporarily Oust Rousseff
by and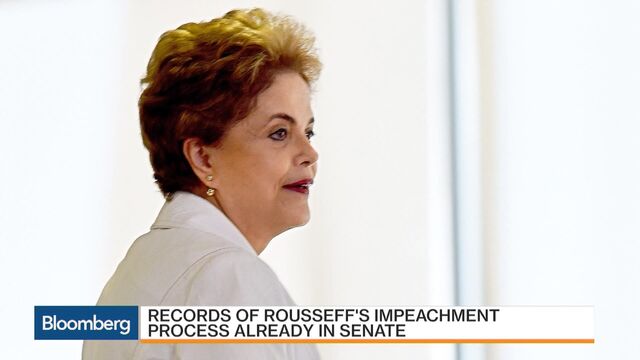 Brazil's Senate leadership on Tuesday started defining the next steps in the impeachment process, indicating that the vote that could temporarily remove President Dilma Rousseff from power will occur in mid-May.
The Senate on April 25 will elect members of a special committee, which will have as many as 10 working days to recommend to the full chamber whether it should accept the motion to try Rousseff, Senate President Renan Calheiros said Tuesday. Legislators will then have two days to discuss the committee's findings before holding the vote.
Rousseff will have to step down if a simple majority of Senators vote to try the president on charges she broke the law by masking the budget deficit with unauthorized loans from state banks. The chamber would then have six months to hold hearings and would need a two-thirds majority to impeach the president and permanently remove her from office. Rousseff says there is no legal basis for her impeachment.
Critics of the administration are pushing the Senate to act fast and build on the momentum of the April 17 vote against Rousseff in the lower house of Congress. The government wants the process to move more slowly as it tries to win support from undecided legislators, indicating it will ask the Supreme Court to suspend proceedings. Calheiros hasn't taken a side and says he will follow guidelines set by the constitution.
"We have to act responsibly," he said Tuesday. "My obligation to history doesn't allow me to steamroll over the defense or delay the process."
Before it's here, it's on the Bloomberg Terminal.
LEARN MORE