Bonds Hang Tough in Face of Soaring Stocks as Go-Slow Fed Reigns
by
Traders see rate increase as unlikely before fourth quarter

Central banks' expansive policies support stocks and bonds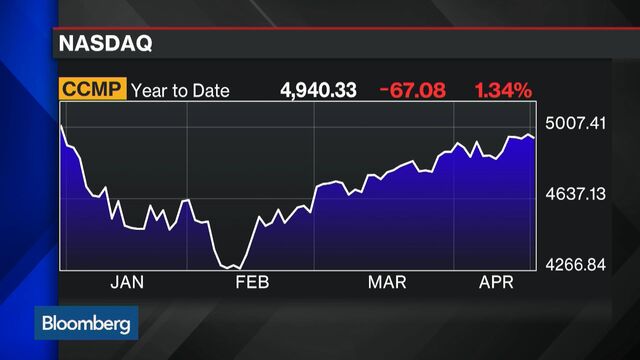 Even as global stocks cruise to their highest levels since December and investors gain confidence in riskier assets, demand for the world's premier safe haven shows little sign of ebbing.
Yields on U.S. government debt aren't far from their lows for 2016 as investors bank on a gradual pace of Federal Reserve interest-rate increases amid signs of tepid economic growth and with the looming risk of the British referendum in June on staying in the European Union.

It's unusual for stocks and government bonds to rally in tandem, because they tend to appeal to fund managers with opposing degrees of risk tolerance. Yet both asset classes are benefiting after the Fed signaled last month that it will raise rates more slowly than policy makers projected in December. Lower rates buoy equities by fostering economic growth, and the Fed's decision helps bonds by underscoring how policy makers have struggled to raise inflation to their target.
"It all comes down to the Fed, and the fact that monetary policy is expected to be low for so long," said Ian Lyngen, a government-bond strategist at CRT Capital Group LLC in Stamford, Connecticut. "The reason yields are so low but equities are at or near record highs comes from the fact that the Fed is supplying very inexpensive money and that's propping up the equity market."
Rebound Stretch
After tumbling at the start of 2016, stocks and other relatively risky assets have rebounded after the European Central Bank and the Bank of Japan unveiled additional stimulus. Even as corporate earnings disappoint and economic indicators fall short of forecasts, the central-bank measures are helping prop up both stocks and bonds.
An MSCI index of developed-market stocks has gained 1.8 percent this year, reaching its highest since early December. Meanwhile, Treasuries maturing in more than a year have earned 2.6 percent in 2016, according to Bloomberg's U.S. Treasury Bond Index.
Treasuries were little changed Wednesday, with benchmark 10-year notes yielding 1.79 percent, compared with a low this year of 1.53 percent on Feb. 11. The 1.625 percent note maturing in February 2026 was at 98 18/32.
"This is all based on a patient Fed with a risk-management approach that looks to want to let the economy run hot," said John Briggs, head of strategy for the Americas in Stamford, Connecticut, at RBS Securities Inc., one of the 23 primary dealers. "The idea is if the Fed is on hold for a long time, people need yield, dividends, return, etc. And the Fed is not a risk."
Before it's here, it's on the Bloomberg Terminal.
LEARN MORE