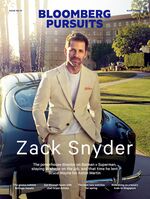 As the editor of a luxury magazine, I'm inundated with news about the most over-the-top products. Diamond-encrusted shoes; $50,000 headphones; a $317 million yacht with two helipads and three iguanas (for sale now!). So it's refreshing to meet someone like Tomas Maier, the creative director of both global giant Bottega Veneta and his own boutique namesake label, which focuses on upscale weekend wear for men and women. Maier, profiled by writer Drake Bennett, is all about understatement. In his work he avoids trends, and at home he wears a uniform of dark jeans, white button-downs, and simple sweaters—"I would rather sit and read the paper for 10 minutes longer than figure out some elaborate outfit," he says. Maier believes that one's personality, rather than his clothing, should be the main attraction.
Maier's minimalism is admirable; on the other hand, what's the harm in a little overindulgence? Our cover subject, director Zack Snyder, creates colorful, fantastical comic book movies. He's a tattooed workout end and personally demonstrates stunts to his cast. During his interview with writer Devin Leonard, Snyder wore a floral shirt, gray vest, and jeans. On someone else the ensemble might not have worked—the clothes wearing the man, etc. But on Snyder, whose favorite word is "awesome," the combo felt just right.
For most of us, life lands somewhere between reading the paper and showing Batman how to jump off a building. Our aim at Bloomberg Pursuits is to bring you a bit of both—elegance and exuberance; smart spending and that extravagant splurge. For inspiration, check out six glorious watches, or just look at Snyder's Aston Martin on the cover. He's got a collection of them—you can start with one.
SEEK
Shred the Slopes of Iceland
Catch an epic spring run on an Arctic heli-skiing adventure.
Honolulu Is the Next Global Foodie Destination
The island of Oahu is known for its upscale resorts and lush beaches, such as the snorkel haven Kawela Bay and surfing magnet Waimea Bay. Now there's reason to venture inland, where a group of chefs—many of them native Hawaiians—is rethinking traditional dishes such as poke, a raw-fish appetizer, and popular desserts like shave ice. The result is a restaurant boom centered in Honolulu's Chinatown, only a 15-minute drive from the luxury hotels on Waikiki Beach. Here are the seven spots to check out during your next tropical vacation.
These Custom, NYC-Made Surfboards Will Maximize Your Fun
Token's surfboard shaper Christian Boalt makes stylish, speedy beach accessories.
This Thailand Tycoon's Private Palace Is a Pool-Filled Oasis
A 34,659-square-foot zen mansion has 28 individual pavilions.
Easy Rider: The Fastest Way to Become a Motorcycle Person
Get your motorcycle career in gear with the new Ducati Scrambler.
Buy These Rare Whiskies Before They're Gone
The four high-end bottles to get in 2016—as delicious as they are hard to find.
Antigua Is the Caribbean's Little Italy
The tiny Caribbean island, home to some of the most gorgeous beaches in the world, has transformed into a mini-Mediterranean destination.
The World's Best Chocolate Is From Tuscany
Amedei, six-time winner of the Academy of Chocolate's "Golden Bean" award, has achieved cultlike status among top chefs for its rich, creamy textures and full-bodied flavors. Owner and maître chocolatier Cecilia Tessieri explains the technique behind the most delicious chocolate in the world.
The Joy of Building a Custom Wine Cellar
It's not just about the bottles.
SPEND
The 11 Accessories You Should Buy Now
From a striped Prada handbag to playful Eton cuff links and a colorful Alexander Olch tie, these are your new essentials.
PURSUE
Zack Snyder's Superhero Life
The powerhouse director on Batman v Superman, staying in shape on the job, and that time he lent Bruce Wayne his Aston Martin.
I Traveled Back in Time on Southeast Asia's Orient Express
Sam Grobart rediscovers the glamour of train travel in four days of blissful, beautiful, retro nothingness between Bangkok and Singapore.
Meet the Man Who Makes the Perfect Dress Shirt
Designer Tomas Maier makes luxurious clothing for men who don't want to think about clothes.
A Spanish Food Adventure with Chef Grant Achatz
Grilled baby eels! Braised pig ear! Codfish bladders! Tag along with the celebrity chef as he eats and drinks his way through the most delicious restaurants in San Sebastián.
Six Watches to Get You the Right Kind of Attention
Right place, right time—the perfect timepiece can elevate any situation. From a $4,000 to $130,000 piece of art, our favorite new watches whatever the springtime fun.
Actor Jeremy Renner's Secret Passion: House Flipping
The blockbuster film star shares some pro-tips from his multi-million-dollar other career.
Before it's here, it's on the Bloomberg Terminal.
LEARN MORE