Air Force Says Disclosing Bomber's Secret Cost Would Aid Enemies
by
Contract value said to give clues to plane's weight, payload

Release of U.S. contract award to Northrop sought by McCain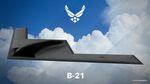 The Air Force won't make public the contract value of Northrop Grumman Corp.'s winning bid for the B-21 bomber, saying that would make it "decisively easier" for U.S. adversaries to determine the stealth aircraft's range and weapons payload.
There is a "strong correlation between the cost of an air vehicle and its total weight," Randall Walden, director of the Air Force's secretive Rapid Capabilities Office, which is overseeing the B-21 program, wrote in a letter to Senator John McCain, chairman of Senate Armed Services Committee.
"This correlation makes calculating aircraft range and payload decisively easier for our adversaries looking to develop countermeasures," Waldon wrote in the letter dated April 11 and obtained by Bloomberg News. He said the information has been provided to congressional staff "in the appropriate classified channels."
Most aspects of the bomber remain a mystery. Details such as the B-21's size, required stealth, structure, number and type of engines, and onboard sensors remain classified. The Pentagon has only released a computer-generated graphic showing a black, wing-shaped plane flying through clouds below the Air Force insignia.
McCain had asked the service to release the contract award, part of the bomber's $23.5 billion development phase. He's been critical of the development contract's cost-plus structure, which requires the Air Force to pay for overruns.
"We remain committed to transparency," Walden wrote, outlining what's been released to date, including the estimated development phase cost and subcontractors.
Before it's here, it's on the Bloomberg Terminal.
LEARN MORE