After Hiatus, Argentina Returns to Market With Blockbuster Sale
By and
10-year yield is lower than average for similarly-rated bonds

Country boosted size of sale to $16.5 billion of bonds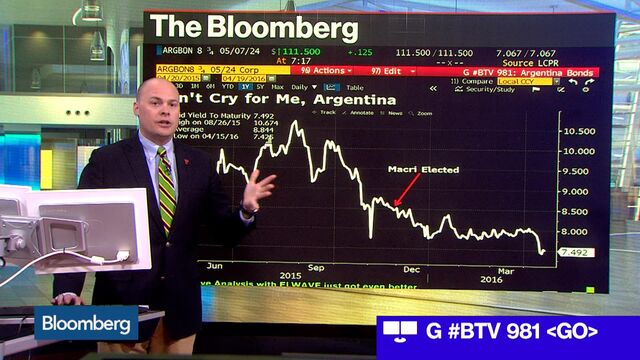 After 15 years of being shut out of global credit markets, Argentina returned with a bang.
The country boosted the size of its bond sale to $16.5 billion on Tuesday and issued at a lower interest rate than initially targeted and less than similarly-rated securities pay. The sale set a single-day record for a developing country and marked an end to a chapter of international isolation that followed Argentina's $95 billion default in 2001.
Raising the funds is the biggest victory yet for President Mauricio Macri, who took office in December vowing to end unpredictable economic policies and reach a settlement with holdout creditors who sued the country after its default. About $10 billion of the proceeds from the bond sale will go toward repaying hedge funds and other investors, led by billionaire Paul Singer, who reached an accord with Argentina in February.
"I remember the 2001 default, so to see Argentina once again coming back to the capital markets, it'll be impressive," said Ray Zucaro, the chief investment officer at RVX Asset Management in Miami, who put in orders for 10- and 30-year bonds from the new sale and has been covering Argentina for 18 years. "For old timers, it certainly warms the heart to see the return of such a great country in the market."

Investors put in bids for $68.6 billion of bonds, the Finance Ministry said in a statement. Two-thirds of the buyers were U.S. based, with 25 percent in Europe after more than 340 investors attended meetings with government officials last week in London, New York, Los Angeles, Boston and Washington, Finance Minister Alfonso Prat-Gay told reporters Tuesday.
"For a country that is still in default, it's truly impressive that we've gone from darkness to the possibility of reconnecting with the world," he said.
Isolation from international markets cost the economy $120 billion and meant the country lost out on 2 million new jobs that otherwise would have been created, he said last week.
Argentina sold $6.5 billion of 10-year bonds to yield 7.5 percent, $2.75 billion of three-year bonds to yield 6.25 percent, $4.5 billion of five-year bonds at 6.875 percent, according to a Finance Ministry statement. The country also sold $2.75 billion of 30-year bonds to yield 8 percent, issuing them at a discount of 95.76 cents on the dollar. The sale had initially been put at $10 billion to $15 billion, with 10-year notes paying a yield of as high as 8 percent.
The average yields on notes due in about 10 years that share the securities' B- rating from Standard & Poor's is 8.89 percent, according to data compiled by Bloomberg.
"The Argentina deal offers a unique opportunity to get access to one of the brightest spots in emerging markets," Stuart Sclater-Booth, a money manager at Stone Harbor Investment Partners, said in an e-mail. "The success of this deal is good for the whole asset class." 
The bonds rose before they were officially sold in the so-called gray market, where investors can trade the debt on a when-issued basis. The 30-year bonds traded at about 2.6 cents above the issue price, while 10-year notes were about 1.7 cents above par, according to Jorge Piedrahita, the chief executive officer at brokerage Torino Capital in New York.
Argentina's existing bonds due in 2033 gained 1.5 cent to 127.2 cents on the dollar as of 6:22 p.m. in Buenos Aires, reaching a record high.
Without the ability to tap overseas debt markets, former President Cristina Fernandez de Kirchner drained central bank reserves to pay off hard-currency debt and printed money to fund government spending, fueling inflation that analysts estimated at about 25 percent. As the value of the peso eroded, capital flight surged -- leading to years of strict currency controls that stifled economic growth and foreign investment.
Since taking office, Macri has removed capital controls, dropped most export tariffs, cut government subsidies and overhauled the national statistics agency. Rating companies have upgraded their opinions on the country's debt and sent yields of existing bonds to record lows.
"They're doing everything right," said Rafael Elias, the head of emerging markets strategy at Cantor Fitzgerald. "Solving the situation with the holdouts was something that people expected with Macri, but perhaps not so soon after he took office and so successfully."
The last time Argentina sold bonds in May 2001, the economy was suffering after a currency peg system that had helped tame inflation undermined growth. The nation sold bonds with a 15.5 percent coupon at just 78.55 cents on the dollar. Seven months later, the country defaulted on $95 billion and abandoned its fixed exchange rate.
This time around, the country is benefiting from improving sentiment toward emerging markets, said Gerardo Rodriguez, a money manager at BlackRock Inc. in New York and a former deputy finance minister for Mexico.
At the same time, investors who measure their performance relative to benchmark indexes are scooping up the bonds in anticipation of their inclusion in those gauges.
"If you get it wrong, that's a huge performance gap," said Jean-Dominique Butikofer, who oversees $3 billion in emerging-market debt as head of emerging markets at Voya Investment Management in Atlanta. "It's like poker. Sometimes you have to pay up, even if you think you might lose."