'Terrorist Attack' Is Main Direction in Jerusalem Bus Bombing
by
Two of 21 injured in serious condition; police investigating

Netanyahu vows to `settle accounts' with those behind attack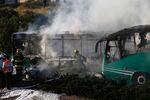 The first bombing on an Israeli bus in years appears to be an act of terrorism, police said.
The explosion late Monday afternoon took place just days before the Jewish Passover holiday, and the security presence in the city was reinforced afterward, police spokesman Micky Rosenfeld said. 
"Police are working carefully to rule out that it wasn't a criminal incident," he said, "but the main direction is that it was a terrorist attack."
The device went off at the back of a city bus near the engine, blowing up the gas tank and causing the vehicle to go up in flames, Rosenfeld said. He said he didn't have details about the device, but Israel Radio said it appeared to be an improvised bomb.
One reason police were unable to conclusively determine if the bombing was politically motivated is that the identity of the bomber wasn't known, Rosenfeld said. Media speculated it might be an unidentified man hospitalized in a Jerusalem medical center with critically wounds from the explosion.
The blast occurred just a week after Prime Minister Benjamin Netanyahu reported a sharp decline in the wave of stabbing, shooting and hit-and-run attacks that has swept Israel since October. It brought back harsh memories of the wave of bus bombings that killed hundreds of Israelis in the second Palestinian uprising against Israel.
While police were still pursuing their investigation, Netanyahu pronounced the explosion a terrorist attack.
"We will settle accounts with these terrorists," Netanyahu said late Monday in remarks sent from his office by text message. "We will locate whoever assembled this bomb, we will reach the dispatchers and we will get to whoever stands behind them."
Hamas, the Palestinian group that rules the Gaza Strip, issued a statement praising the bombing, without claiming responsibility.
"The bombing attack is a natural reaction to the Israeli crimes," Hamas spokesman Sami Abu Zuhri said in an e-mailed statement from Gaza.
Hours earlier, the army said it uncovered and destroyed an attack tunnel dug into its territory from Gaza, the first found since a 2014 war with the Palestinian territory's Hamas rulers. Hamas uses the tunnels to store weapons and cross the border to try to kidnap or kill Israelis.
Earlier on Monday, Abu Obeida, a spokesman for the Al-Qassam Brigades, Hamas' armed wing, said the tunnel "is a drop in the sea of what Hamas prepares."
Before it's here, it's on the Bloomberg Terminal.
LEARN MORE