business
The Hole at the Center of the Rally: S&P Margins in Decline
By
Analysts see 1% slide in revenue leading to 9.5% drop in EPS

Margin pressure building amid rising wages, low productivity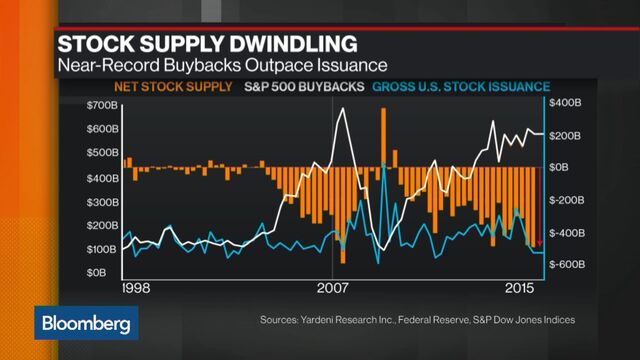 Stocks are rising, the worst start to a year is a memory, and short sellers are getting pummeled. And yet something is going on below the surface of earnings that should give bulls pause.
It's evident in quarterly forecasts for the Standard & Poor's 500 Index, where profits are declining at the steepest rate since the financial crisis relative to revenue. The divergence reflects a worsening contraction in corporate profitability, with net income falling to 8 percent of sales from a record 9.7 percent in 2014.

Bears have warned for years that such a deterioration would sound the death knell for a bull market that is about two weeks away from becoming the second-longest on record even as productivity sputters and industrial output weakens. While none of it has prevented stocks from advancing in seven of the last nine weeks, rallies have seldom weathered a decline in profitability as violent as this one -- and the squeeze is often a bad sign for the economy, too.
"Analysts have seen the string pull as far as it can go, and there is no way for it to go but to reverse for the moment," said Barry James, chief executive officer who helps oversee $6.7 billion at James Investment Research in Xenia, Ohio. "Without the Federal Reserve chipping in with quantitative easing, investors have to go back to valuations and earnings, and both of those -- one is high and the other is low -- that's not a very good recipe for stocks." James said his firm is raising cash amid the recent rally in stocks.
While energy producers are expected to suffer the biggest contraction in margins because of plunging oil prices, with a 28 percent drop in sales accompanying a first-quarter loss, analyst predicted six of the other 10 S&P 500 industries will also report lower profitability. Financial and raw-materials companies will see income growth trailing sales by at least 12 percentage points. 
Market Cycle
A study by Barclays Plc showed that big drops in corporate profitability usually foreshadow economic reversals. Since 1973, there have been six other instances when the S&P 500's margins narrowed by 60 basis points or more over a 12-month period. All but one coincided with a recession.
Moreover, should the Fed continue to gradually raise interest rates and the government refrain from adding stimulus, it would be the first time since 1952 that profits turned lower without a recession, Fed easing, or fiscal expansion, data compiled by Bianco Research LLC show.
"It's just very difficult for me to envision a scenario that sees prices higher to any degree," said Malcolm Polley, who oversees $1.3 billion as president and chief investment officer at Stewart Capital Advisors LLC in Indiana, Pennsylvania. "You have to have so much go right and the likelihood of something going wrong that causes valuations to drop in my mind is very high."
Worries 'Overblown'

U.S. stocks advanced last week, pushing the S&P 500's gain since it bottomed on Feb. 11 to almost 14 percent. Stocks with the most short sales are up 31 percent over that stretch, according to an index compiled by Goldman Sachs Group Inc. Last week's rally came even as readings on retail sales, industrial production and consumer sentiment fell. Stocks advanced before what will be the worst earnings season since 2009, pushing the S&P 500's price-earnings ratio to 19, near a six-year high. The benchmark gauge climbed 0.7 percent at 4 p.m. in New York.
Even as margins slip, U.S. companies are churning out more profits than any other time in history. Analysts forecast combined S&P 500 income to exceed $1 trillion in the next 12 months, compared with $740 billion in 2007 and $490 billion in 2000. Technology innovation and lower commodity prices will help provide a floor to margins, according to Jeffrey Saut, chief investment strategist at St Petersburg, Florida-based Raymond James Financial Inc., which oversees $500 billion. 
The concern over a margin squeeze "is overblown," Saut said. "I don't think margins are going to do what they have done in past cycles and regress to the mean. I'm not all that worried about a big margin compression that's going to take the wind out of the profit picture."

In a reversal from the years after the financial crisis when American companies reported faster earnings growth amid a dearth of revenue gains, analysts predict income from S&P 500 firms will slump 9.5 percent in the first quarter while sales fall 1 percent.
The forecasts highlight the challenge for corporate America, whose efforts to boost revenue are constrained by a sluggish economy while reining in costs is impeded by rising wages and interest rates. Also pressuring profit growth is stubbornly low productivity, or employee output per hour. Over the last five years, productivity gains averaged 0.5 percent, the weakest since 1978-1982.
Margin Leverage
Margins are the fulcrum between the top and bottom lines -- they help profits multiply on the way up and exacerbate declines on the way down. In the five years through the third quarter of 2014, when margins more than tripled to a record, S&P 500 earnings expanded at an average rate of 21 percent a quarter, versus 5 percent for sales. As margins started shrinking, the difference between the growth rates has narrowed to about 2 percentage points, with fourth-quarter income experiencing a bigger decline than revenue for the first time since 2009.
"With the slack in the labor economy at low levels, wage inflation could begin to tick up and those costs could rise and ultimately begin to pinch earnings," said Michael Arone, the Boston-based chief investment strategist at State Street Global Advisors' U.S. intermediary business. The firm oversees $2 trillion. "We're at a point where the only thing that's going to boost earnings is for companies to generate higher sales."
Volatility has risen in the stock market as forecasts for gross domestic product and corporate earnings kept falling. Since August, the S&P 500 has suffered two separate declines exceeding 10 percent as economists reduced projections for this year's rate of economic expansion to 2 percent from 2.7 percent. Over the period, growth estimates for S&P 500 profits have been trimmed to 2.3 percent from 10 percent.
A tightening labor market, as well as the spread of minimum wage hikes, should drive continued acceleration in the trend of higher wage costs, according to Goldman Sachs. The firm estimates that each 10 basis-point shift in margins is worth about 1 percent in per-share earnings.
"Wages are escaping their stagnation," strategists including Ben Snider and David Kostin wrote in an April 12 note. "After an earnings recession in 2015, corporate profits are set to rebound in 2016, but combination of modest GDP growth and peak margins creates an uncertain path for profits in coming years."
— With assistance by Wendy Soong
(
Updates Monday's trading in ninth paragraph.
)
Before it's here, it's on the Bloomberg Terminal.
LEARN MORE