RBNZ Refuses to Reveal Advice Given to Wheeler on Rates
by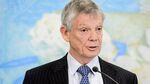 New Zealand's central bank rejected a request to release a summary of the advice Governor Graeme Wheeler receives before making interest-rate decisions, saying it has limited value and may be misinterpreted.
Wheeler said last month that all 13 people on the Reserve Bank's monetary policy committee were in favor of the surprise rate cut he announced March 10. Former RBNZ staffer Michael Reddell had lodged a request under the Official Information Act asking for the numbers on the committee who favored each rate decision back to mid-2013.
Under New Zealand legislation, the RBNZ governor is the sole decision maker on interest rates, although Wheeler and his predecessors do receive advice from a committee which doesn't vote or make its deliberations public. The opposition Green Party has called for the decision to be more transparent, and wants it made by a board that is more representative of the economy. The government has said it is happy with the existing structure.
"MPC policy recommendations are simply advice that the governor is free to accept or not," the RBNZ said in the response to Reddell's request, posted on its website and dated April 13. "Given the governor's sole responsibility for determining monetary policy settings and the limited objective value of the information, the bank considers the public interest in knowing this selective aspect of the advice of the MPC is not strong."
'Serious Risks'
The RBNZ said there were also "serious risks that misinformed commentary on this partial aspect of advice could detract from the governor's ability to implement monetary policy."
Wheeler faced criticism from economists after delivering his March 10 interest-rate cut that took most of them by surprise, particularly after a Feb. 3 speech that many had read as signaling a cut wasn't imminent. He maintained there shouldn't have been any shock.
"I don't think it's a mystery that the Reserve Bank cut interest rates," Wheeler told the New Zealand Herald on March 14. "In fact, we have 13 people who give advice to the governing committee who make these decisions and the advice from the 13 was unanimous."
Reddell regularly criticizes Wheeler in his economics blog Croaking Cassandra. The RBNZ last week announced it was discontinuing embargoed lockups for rate decisions after the March 10 rate cut was leaked to Reddell by a local media organization.
Before it's here, it's on the Bloomberg Terminal.
LEARN MORE