Pound Whipsawed by Oil, Stocks; Osborne Warns on Brexit Cost
by
Sterling erased biggest decline in a week against euro

Treasury report warns of `permanent' damage if U.K. leaves EU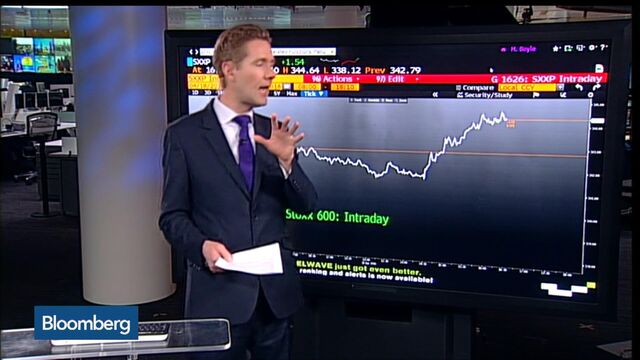 The pound was whipsawed first by moves in oil, and then U.S. stocks on Monday, swings that underscore the currency's sensitivity to market volatility before Britain's vote on its European Union membership.
Sterling erased its biggest decline in more than a week against the euro as equities markets rebounded amid better-than-forecast earnings Monday. The U.K.'s currency earlier weakened, following the collapse in Doha of talks among oil producers to limit output on Sunday. With investor preparing for more price swings before the June 23 referendum, Chancellor of the Exchequer George Osborne warned Monday of "permanent" damage should U.K. leave the EU.
"Right now the pound trades in a very cyclical manner," said Petr Krpata, a London-based foreign-exchange strategist at ING Groep NV. "So when the risk is on sterling benefits, and vice-versa."
U.S. stocks advanced after erasing an early decline, as investors shook off oil's losses on failed output talks and looked toward this week's bevy of corporate earnings. Crude oil pared a loss to less than 3 percent after falling almost 7 percent.
The pound was little changed at 79.35 pence per euro as of 4:31 p.m. London time, having touched 79.94 earlier, the weakest level since April 12. Sterling advanced 0.5 percent to $1.4271.
Risk Reversals
The premium for three-month contracts hedging against sterling losses versus the dollar compared with those protecting against gains climbed to 4.79 percentage points last week, the highest since Bloomberg began compiling the risk-reversals data in 2003. While the pound climbed against the greenback last week, it's down against all but two of 16 peers in April, cementing its status as the worst-performing major currency of 2016.
Waning expectations of a U.K. interest-rate increase have also kept sterling weaker this year and minutes of the Bank of England's latest policy meeting released on April 14 showed officials considered the implications of Britain leaving the EU in their decision.
The BOE's "comments suggest that stay or leave, the Brexit referendum could be lose-lose proposition: a vote to stay would lead to spikes in foreign-exchange rates, hurting exports and making the pursuit of higher inflation even more uncertain," said Jean-Michel Six, Standard & Poor's chief economist for Europe, the Middle East, and Africa, in an e-mailed report Monday. "On the other hand, an exit vote could cause a run on sterling and a spike in yields, hurting investors and consumer confidence," he said.
U.K. government bonds declined, with benchmark 10-year gilt yields rising seven basis points, or 0.07 percentage point, to 1.48 percent. The 2 percent security due in September 2025 fell 0.5, or 5 pounds per 1,000-pound face amount, to 104.63.

Before it's here, it's on the Bloomberg Terminal.
LEARN MORE