Netflix Plunges on Forecast for Weakening Subscriber Growth
by
International gains will shrink despite new programming push

Domestic growth also to ease in typically slow second quarter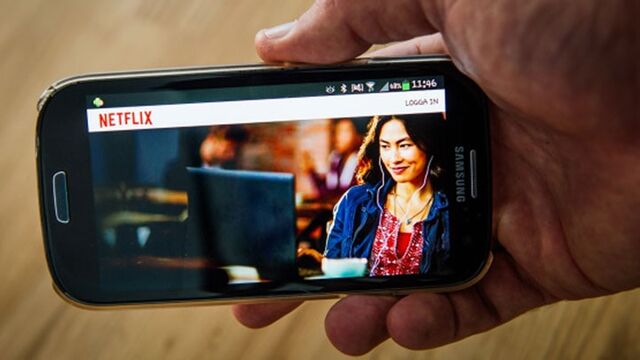 Netflix Inc., the online TV network in the midst of a major worldwide expansion, plunged the most in 1 1/2 years after rattling investors with forecasts for weakening subscriber growth in the current quarter, especially in international markets.
Netflix expects to add 2 million new international customers, according to a statement Monday on its website. That's fewer than the 3.45 million average of five analysts' estimates compiled by Bloomberg. Domestic customers may increase by 500,000 in the second quarter, Netflix said, compared with the 505,000 average of estimates.

The shares slid 13 percent to $94.34 at the close Tuesday in New York, the most since October 2014, making it the second-biggest laggard in the Standard and Poor's 500 Index. The stock had fallen 2.8 percent to $108.40 at Monday's close, weighed down by Amazon.com Inc.'s introduction of a competing standalone video-streaming service. With the losses, Netflix has shed about $7.4 billion in market value since Friday.
Netflix has pitched itself as a global service that will bring the on-demand TV revolution to countries as diverse as Brazil, Germany and Japan. Investors have anticipated international markets would fuel future growth, especially as the service's growth in the U.S. slows. The company expanded into 130 new international markets in the first quarter, all but completing its global rollout.
"Our international forecast for fewer net adds than prior year is due to a tough comparison against the Australia/New Zealand launch," the company said in the statement. The company hasn't reached its full potential in many of those countries because TV shows and movies aren't available in local languages, Chief Executive Officer Reed Hastings said Monday during a presentation with analysts.
"The current leg of the Netflix growth story is based upon international growth," Paul Sweeney, a Bloomberg Intelligence analyst, said in an e-mail. "Any disappointment there is going to rattle investors particularly when Amazon has just announced its streaming-only service."
While slowing U.S. growth had been a concern for investors, the second-quarter international shortfall was the bigger surprise, said William Power, an analyst at Robert W. Baird & Co., who has a neutral rating on the stock.
The outlook overshadowed first-quarter results that mostly beat analysts' estimates. Netflix added 2.23 million new U.S. subscribers in the first quarter, beating its own forecast and analysts' estimates amid investor concern over slowing domestic growth.
"A little choppiness in the quarterly subscriber cadence should not overshadow Netflix's position as the dominant global platform," Stifel analyst Scott Devitt wrote in a note Tuesday. Amazon also isn't a problem for Netflix, as "both are winning," while traditional networks, including Time Warner Inc.'s HBO, may be losing, said Devitt. He has a buy rating on the stock.
Original Programming Push
Netflix credited the popularity of new shows "Fuller House" and "Love," as well as new seasons of returning shows "House of Cards" and "Daredevil." Netflix will spend more on original series made in foreign languages to reach customers in newer markets. The service's first French series, "Marseilles," premieres May 5 while the first Japanese series, "Hibana," debuts in June.
Netflix signed up 4.51 million customers internationally after expanding to 130 new markets. That brought the worldwide total to 81.5 million. The company had projected 1.75 million new U.S. customers and 4.35 million overseas.
First-quarter net income rose to $27.7 million, or 6 cents a share, from $23.7 million, or 5 cents, a year earlier, the Los Gatos, California-based company said. Analysts were forecasting 4 cents, the average of estimates compiled by Bloomberg. Sales grew 24 percent to $1.96 billion, compared with projections of $1.97 billion.
For the second quarter, the company expects to reach 84 million subscribers globally. Profit will be 2 cents a share, down from 6 cents a year earlier.
This year, Netflix will spend $5 billion on programming, exceeding any other U.S. TV network. To help pay for that growing budget, the company will begin raising prices next month for millions of U.S. and foreign customers. Netflix will roll out the price increase over the course of the year, with JPMorgan Chase & Co. projecting 12 percent to 15 percent of its customers may cancel the service.
The company also said it plans to raise money in the high-yield debt market later in 2016 or in 2017.
Investors have permitted Chief Executive Officer Reed Hastings to run the company at close to break-even because of his promise of significant profits starting next year. Netflix will have to accomplish that by adding subscribers to its existing business, since the company sells its TV service in all but four territories -- China, Syria, North Korea and Crimea. Of those, only China is a realistic candidate for expansion someday.
Analysts covering Netflix are split on the stock, with 25 buys, 17 holds and four sells.
"We're very confident in the long term that everyone will be watching TV and movies over the Internet," Hastings said. "We hope to be one of the leading brands around the world."
Before it's here, it's on the Bloomberg Terminal.
LEARN MORE