Morgan Stanley Quarterly Profit Beats Estimates on Cost Cuts
by
Bank reduces compensation expenses by 19% to $3.68 billion

Worst first quarter for fixed income since Gorman took over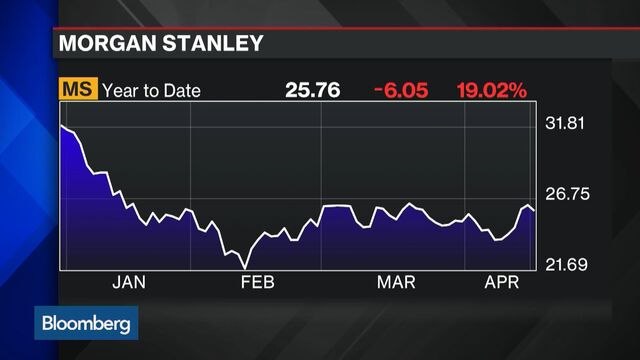 Morgan Stanley joined the parade of Wall Street banks that beat profit estimates by cutting costs to counter a drop in revenue from fixed-income and equities trading.
First-quarter net income fell 53 percent to $1.13 billion, or 55 cents a share, from $2.39 billion, or $1.18, a year earlier, the New York-based company said Monday in a statement. Profit surpassed the 47-cent average estimate of 22 analysts surveyed by Bloomberg. The decline in trading revenue was smaller than some analysts predicted.

While Chief Executive Officer James Gorman has been shrinking the fixed-income trading division to emphasize the less-volatile wealth-management business, Morgan Stanley is still exposed to slumping markets that hurt results across Wall Street. The firm follows JPMorgan Chase & Co., Bank of America Corp. and Citigroup Inc. in lowering expenses to compensate for falling revenue. Goldman Sachs Group Inc., which reports results Tuesday, is embarking on its biggest cost-cutting push in years, people with knowledge of the effort said last week.
"If these markets were to continue as is, our goals will be extremely difficult to achieve, and we would therefore take additional appropriate actions," Gorman said in a conference call with analysts. The company is reviewing every product and business to "convince ourselves that we need our footprint as it's currently configured," he said.
Morgan Stanley dipped 0.3 percent to $25.69 at 2:51 p.m. in New York. The stock has dropped 19 percent this year.
'Biggest Surprise'
Revenue fell 21 percent to $7.79 billion, compared with the $7.76 billion estimate of 18 analysts surveyed by Bloomberg. Non-interest expenses slid 14 percent to $6.05 billion, below the $6.42 billion estimate. Compensation expense dropped 19 percent to $3.68 billion and non-compensation costs declined 6.2 percent to $2.37 billion.
Return on equity, a gauge of profitability, plunged to 6.2 percent excluding an accounting adjustment from 13.5 percent a year earlier. Gorman called that level unacceptable and said he was standing by his target of at least 9 percent by the end of 2017.
"The biggest surprise in the quarter was compensation," Keith Horowitz, a Citigroup analyst, said in a note to investors.
The bank generated $873 million in first-quarter fixed-income revenue, 54 percent less than a year earlier and the weakest start to a year since Gorman took over in 2010.
Equities-trading revenue declined 9.3 percent to $2.06 billion from $2.27 billion, compared with Horowitz's $1.93 billion estimate and $1.95 billion estimate of Credit Suisse Group AG's Susan Roth Katzke.

Wealth-management revenue dropped 4 percent to $3.67 billion, compared with the $3.73 billion estimate of Wells Fargo & Co. analyst Matthew Burnell. Advisory revenue climbed 25 percent to $591 million from a year earlier on higher completed merger business, according to the statement.
"Our equity franchise continues to do extremely well," Chief Financial Officer Jonathan Pruzan said in an interview. In fixed income "we have more work to do, but it was a pretty decent quarter," he said.
Before it's here, it's on the Bloomberg Terminal.
LEARN MORE