Macron Denies He's Running in France, But It Sure Looks Like It
By , , and
French economy minister travels widely to promote his movement

Stops include London, Brussels as well as provincial France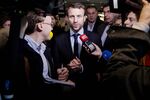 French Economy Minister Emmanuel Macron insists his new political movement isn't the start of a run for office. But a series of public appearances last week looked and sounded very much like an election campaign. The question is: for when exactly?
Ten days after announcing the debut of "En Marche," which means "On the Move" or "Let's Get to Work," Macron travels to Brussels on Monday, before embarking on what he calls a door-to-door drive to take the pulse of France. The 38-year-old former banker was in London last week -- a required pit stop for any national political campaign in France -- where he spoke at a conference, pressed the flesh of French entrepreneurs who have moved to the British capital, and, on Sunday, did an interview on one of the BBC's flagship political shows.
That visit came on the heels of trips to the French regions of Alsace and Meurthe-et-Moselle, a meeting with steel industry workers and executives at a the unveiling of a super-computer. With his wife, he appeared on the cover of last week's "Paris Match," France's best-selling news magazine, where she spoke glowingly of his intellectual attributes.
France's political landscape is in full flux a year before the next election with Francois Hollande rated the least popular president in history and still hinting he'll run again. A dozen candidates are vying for the nomination of the center-right opposition and Marine Le Pen's far-right National Front continues to benefit from discontent over a sluggish economy and the refugee crisis. With young people also protesting Hollande's labor reform on the streets of Paris, Macron's ambiguity allows him to keep his options open while avoiding direct confrontation with his boss or his peers.
"The first possibility is that he's on the stump for Hollande, capturing the center ground," said Gael Sliman, head of the Odoxa polling institute in Paris. "The other theory is that he's out there for himself, preparing his own candidacy. The two are not mutually exclusive."
Hollande or Macron?
Asked whether they prefer Macron or Hollande, 69 percent of French opted for the economy minister and just 25 percent backed his 61-year-old mentor, according to a Ifop poll for Paris match released Tuesday. Matched up against Prime Minister Manuel Valls, support split 55-38 in favor of Macron.

Hollande says he'll decide at the end of the year whether to seek re-election. Macron said in a television interview April 10 that he'd do nothing to undermine his boss.
The question of whether this is really a run for president has dogged Macron these past two weeks, and every time he's ducked it. "Today, it's not the top priority," he said in London. "My priority is my economy minister mandate and to create momentum." He denied the "Paris Match" piece was a publicity stunt, saying his normally discreet wife had briefly spoken to a reporter from the magazine without realizing it was for a cover story.
Still, in a BVA poll released last week, 76 percent of the French said they think "En Marche" is a vehicle for an eventual presidential bid. The poll also showed that 59 percent of the French have a positive image of Macron, rising to 79 percent for people who place themselves on the right of the political spectrum. The approval rating for Hollande in BVA's most recent poll March 26 was just 21 percent.
Provoking Socialists
Macron has been one of the most popular ministers ever since joining the government in August 2014, even as he clashed with Socialist Party orthodoxy. He's pushed to get rid of the 35-hour workweek, for setting civil servants' pay on merit, and once even said the life of an entrepreneur is tougher than that of an employee. Last year, he infuriated Valls by suggesting that lack of opportunity for children of immigrants was partly to blame for the terror attacks in France.
"I am from the left but I am happy to work with people from the right," Macron said in an April 10 interview on France2 television. "In a common project, we can bring together well-meaning people from the left and the right."
While Hollande said last week that Macron "is in the team and under my authority," the the "En Marche" campaign has raised hackles in the Socialist ranks.
"In a democracy there is a left and a right because they have different perceptions of the principles of liberty, equality, and fraternity," said government spokesman Stephane Le Foll, who is also Agriculture Minister. Jean-Christophe Cambadelis, head of the Socialist Party, said in a Twitter posting April 15 that "Macron is an excellent player, but he's not a team player."
Macron himself says he wants to find solutions to what he sees as France's sclerotic economy, society and politics. In London, he argued his country needs more liberalization of its labor market, a better trade-off between security and freedom, and more budgetary harmonization with its European partners -- subjects well beyond his remit as economy minister.
"He says he isn't after the 2017 nomination, but there's little doubt that he'll take a shot at it if conditions are right," said Arthur Goldhammer, an academic at Harvard University's Center for European Studies. "If not, he's got a long future ahead of him."