Jerusalem Bomber Strikes Two Buses on Road From Bethlehem
by
Two of 21 injured in serious condition; police investigating

Netanyahu vows to `settle accounts' with those behind attack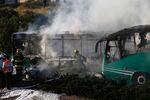 A bomber struck a city bus on the outskirts of Jerusalem, damaging an adjacent bus and leaving 21 people injured, according to Israeli police, who are still investigating the reason for the attack.
While police said there was no final determination that the explosion was a Palestinian attack, Prime Minister Benjamin Netanyahu indicated there was little doubt, saying it was part of a wave of stabbings, shootings and bombings carried out against Israelis since October.
"We will settle accounts with these terrorists," Netanyahu said late Monday in remarks sent from his office by text message. "We will locate whoever assembled this bomb, we will reach the dispatchers and we will get to whoever stands behind them."
The Palestinian group Hamas issued a statement in Gaza praising the bombing, without claiming responsibility.
"The bombing attack is a natural reaction to the Israeli crimes," Hamas spokesman Sami Abu Zuhri said in an e-mailed statement from Gaza.
The explosion sent thick black smoke billowing into the air where the two buses were stopped on a road that connects the southern tip of Jerusalem with Palestinian-ruled Bethlehem about five kilometers (three miles) away in the West Bank.
Two of the injured were in serious condition, police spokeswoman Luba Samri said in a text message. While Israeli media said the most critically wounded person may have been the bomber, Samri said the person had not yet been identified.
The late-afternoon attack came hours after the army said it uncovered and destroyed an attack tunnel dug into its territory from the Gaza Strip, the first found since a 2014 war with the Palestinian territory's Hamas rulers. Hamas uses the tunnels to store weapons and cross the border to try to kidnap or kill Israelis.
Earlier on Monday, Abu Obeida, a spokesman for the Al-Qassam Brigades, Hamas' armed wing, said the tunnel "is a drop in the sea of what Hamas prepares."
Before it's here, it's on the Bloomberg Terminal.
LEARN MORE