IMF Participation Crucial for Greece Deal, EU's Moscovici Says
by and
Fund has questioned nation's ability to meet surplus target

Moscovici says debt reprofiling talks can start after review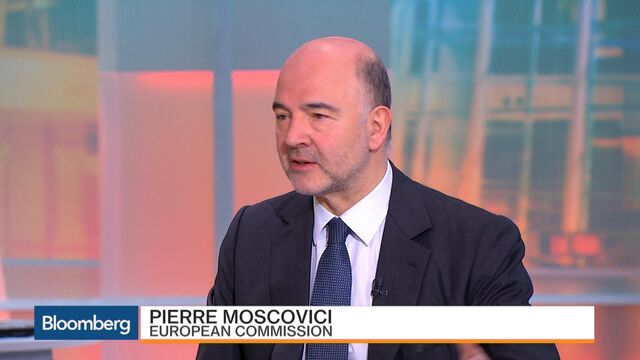 The International Monetary Fund must remain part of Greece's rescue, European Economic Affairs Commissioner Pierre Moscovici said, after the Washington D.C.-based lender raised concerns about the debt-addled nation's ability to keep up repayments under the existing bailout plan.
"We need the IMF on board," Moscovici said in a Bloomberg TV interview in New York on Monday. "The commission is convinced that we must not do, will not do, without the Fund."
The IMF's continued involvement in the Greek bailout has been in question for months after its officials expressed doubts about the nation's ability to meet the budget surplus target euro-area governments set last year as a condition of the 86 billion-euro ($97 billion) rescue.
Under the EU program, Greece is committed to posting a fiscal surplus before interest payments of 3.5 percent of gross domestic product within two years.
The disagreement came to a head on Thursday when IMF Managing Director Christine Lagarde, warned against "far-fetched fantasy hypotheticals concerning the future of the Greek economy" and repeated her call for a "debt operation."
Contingent Measures
The IMF has repeatedly said it won't lend Greece more money unless the country's liabilities become sustainable through debt relief and spending cuts.
Euro-area officials say that Greece will meet the surplus target but are willing to draw up "contingent measures" -- an additional set of conditions that the nation would have to meet should it fail -- in order to keep the IMF on board, a European Union official said on condition of anonymity because the talks are private.
Any discussion about debt reprofiling should only come after a positive conclusion of the euro-area's current review of Greek authorities' implementation of its bailout conditions -- a step that would unlock a fresh loan installment, Moscovici said.
"Let's move step by step; the first step is to conclude the review of the program," Moscovici said in the interview. "If we do so, then we can start talking about debt." He said he hoped for "progress" toward a deal on the unlocking of funds before euro-area finance ministers meet in Amsterdam on Friday.
Before it's here, it's on the Bloomberg Terminal.
LEARN MORE