Low ECB Rates Leave Germans Worried About Dwindling Savings
by , , and
Declining interest earnings add to concerns about pensions

Germans say they're being sacrificed by ECB monetary policy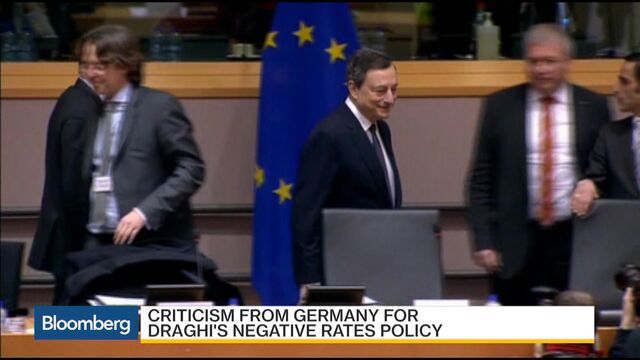 German pensioner Dorothea Dahm spent decades diligently putting away for retirement and never really worried about it -- until European Central Bank President Mario Draghi's zero-interest rate policy hit her savings.
QuickTake Retirement Redesigned
"My generation was raised with the belief that we should save money for uncertain times and to help the next generation," the 68-year-old former advertising executive said by phone from her home in the western German town of Flammersfeld. The lack of interest income these days on savings accounts as a result of ECB monetary policy is "very discomforting," she said.
The ECB's record-low rates have cost Germans -- who are generally more conservative with their money and therefore more likely to stick it in savings accounts than real estate or the stock market -- 125 billion euros ($141 billion) in interest income since Draghi took over in 2011, according to analysis by Deutsche Postbank AG.
German Finance Minister Wolfgang Schaeuble said this month that concern about Draghi's policies has stoked distrust of European institutions and handed fodder to populist groups like Alternative for Germany, or AfD. The party last month grabbed voters from Chancellor Angela Merkel's Christian Democratic Union in three state elections and its support has risen to a record 13.5 percent nationally in this week's INSA poll for the Bild newspaper. The AfD calls for Germany to exit the euro region or an "orderly dissolution" of the currency area.
"The issue has the potential to become politically explosive," Marcel Fratzscher, president of the DIW economic research institute in Berlin, said regarding savings. "The German economy seems to be doing fine and that's why many elderly people ask themselves: Why can't I benefit from that?"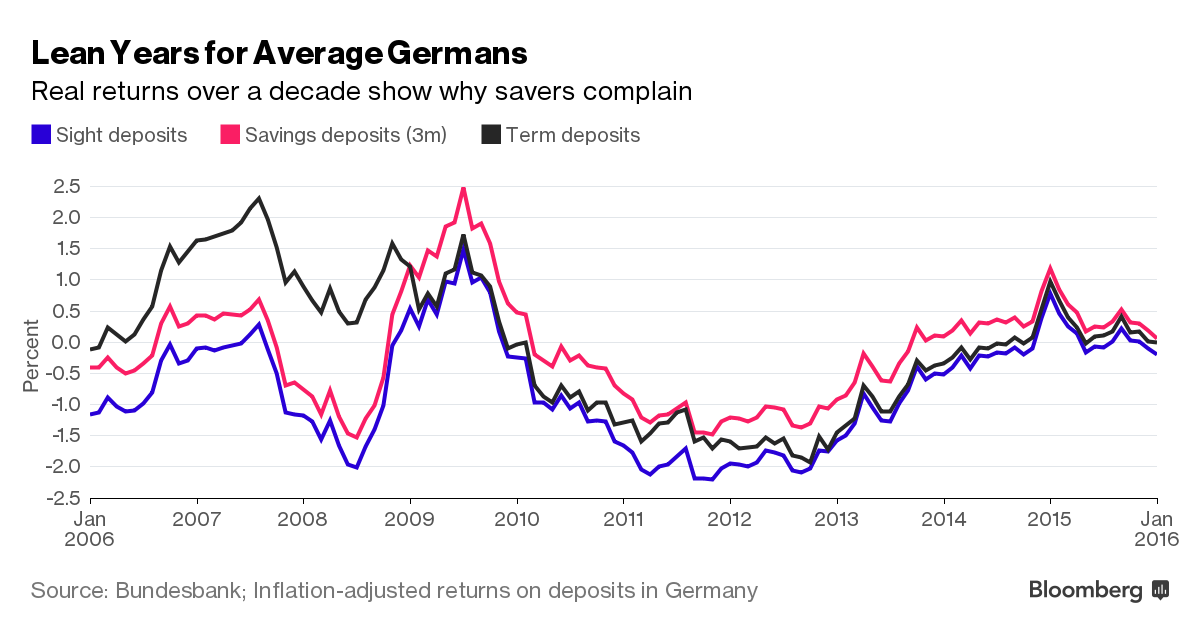 The government has taken notice, giving retirees in 2016 a more than 4 percent pension increase, the biggest in 23 years. German consumer prices rose by 0.3 percent in March compared with the same month last year, according to federal data.
Concerns over savings and pensions strike a nerve especially in Germany, which has a rapidly aging population, meaning that in the future there will be far fewer workers to support retirees and those currently working need to sock away more money to care for themselves. The low rates compound that because people have to put away far more now to have the same amount when they retire.
Eckhardt Rehberg, budget affairs spokesman for Merkel's caucus in parliament, said he gets about a dozen letters a week from voters worried about their savings.
"The letters are sometimes very emotional, often handwritten and rarely exaggerated," Rehberg said. "You have to take peoples' concerns seriously."
Cutting Rates
A change in ECB policy doesn't appear to be coming soon. Draghi continued lowering rates in March, cutting the ECB's benchmark rate to zero and deposit rate to minus 0.4 percent, and a Bloomberg survey of economists published Monday showed most think he'll ease policy again after the summer. No new measures are predicted at the next rate decision on Thursday. Many Germans say these actions by the central bank ignore their interests in favor of bolstering economically weaker countries in the 19-member euro area.
"German savings have been sacrificed for the European monetary policy," Bernd Maier, a corporate manager from Heidelberg, said at the main train station in Berlin, where he had come for business. "The German government must do something to support future pensioners to avoid old-age poverty."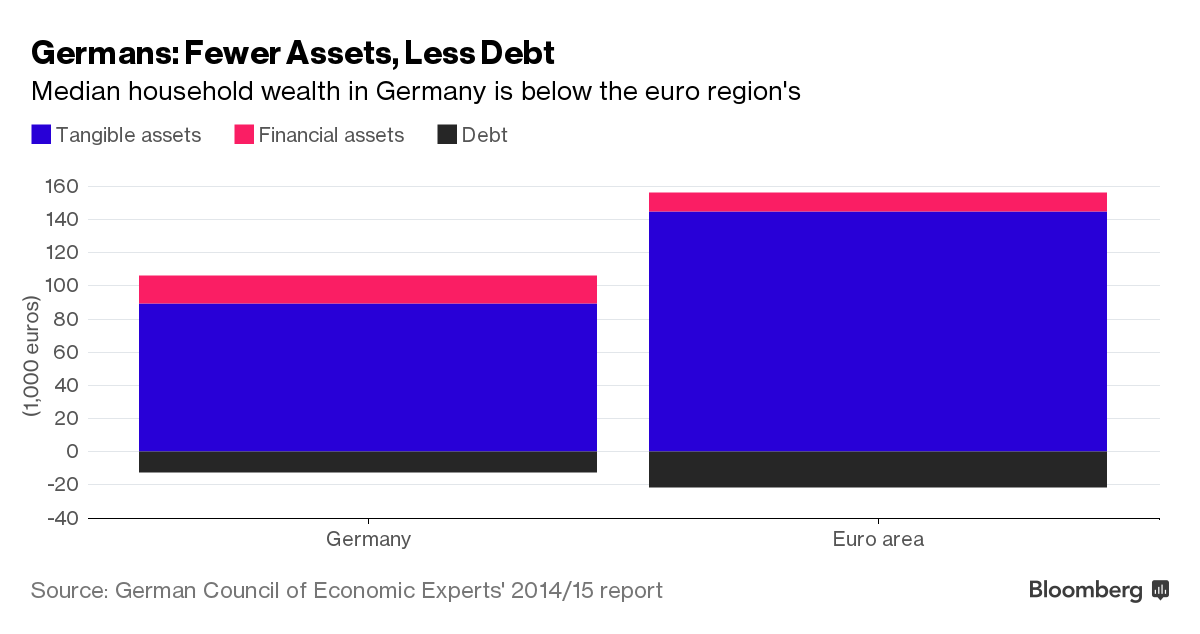 The low returns on private savings add to concerns brought on by forecasts for less generous public pensions in the future. Almost half of workers who retire in 2030 will receive pensions below the minimum social welfare level, public broadcaster WDR said earlier this month, citing its own projections. Germans who start saving for retirement now will have to invest about a third more than before the financial crisis, said Andreas Bley, chief economist at the National Association of German Cooperative Banks.
"It's quite bizarre: The low interest rates reduce incentives to save, yet the necessity to take financial precautions to ensure there aren't any bad surprises come retirement time have increased," Bley said by phone.
Policy makers argue that if politicians did more to improve their economies, the central bank could do less. ECB Executive Board member Benoit Coeure called criticism of the bank's monetary policy "a sideshow," while his colleague Peter Praet said carping from Germany was "sometimes difficult to swallow."
"The debate does not focus enough on the broader macroeconomic consequences of monetary policy," Bundesbank President Jens Weidmann told the Financial Times last week. "People are not just savers: they're also employees, taxpayers, and debtors, as such benefiting from the low level of interest rates."
Some Germans, meanwhile, aren't waiting for policy to change. Concerned by a scenario in which near-zero interest rates become the long-term norm, Dahm, the retiree, decided in December to buy an apartment in Berlin, where her daughter lives.
"I never thought I would invest in real estate at my age, but the monetary policy has forced my hand," she said. "I wanted to make sure my money is safe so I can give something with lasting value to the next generation."
Before it's here, it's on the Bloomberg Terminal.
LEARN MORE