Five Things You Need to Know to Start Your Day
Get caught up on what's moving markets.
by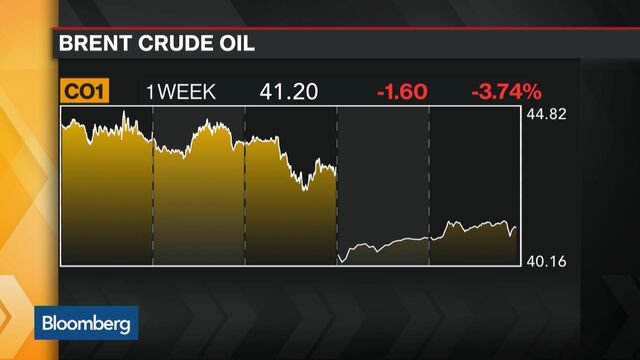 Want to receive this post in your inbox every morning? Sign up here
Doha talks fail, oil tumbles, Brazil's president loses impeachment vote. Here are some of the things people in markets are talking about today.
Doha talks fail
Talks in Doha yesterday failed to produce an agreement on an oil production freeze, with Iran's decision to stay away and Saudi Arabia's insistence that any production cap includes that country sealing the agreement's fate. Oil futures, which plunged as much as 6.8 percent in early trading in New York, are recovering somewhat this morning with West Texas Intermediate for May delivery down 3.3 percent at $39.00 a barrel at 10:31 a.m. London time. The only bright spot from the weekend from investors caught on the wrong side of the plunge in oil prices is that an open-ended labor strike in Kuwait has severely curtailed production there. 
Commodity currencies drop, yen gains
The failure of talks in Doha led to a drop across commodity currencies, with the aussie, the loonie, the ringgit and the Russian ruble all falling at least 0.6 percent. The Japanese yen rose towards a 17-month high, as yields on that country's 20- and 30-year debt fell to an all-time low. With Japan getting little support for a possible intervention to weaken the currency at the G-20 meeting, there seems to be little to stop further appreciation of the currency at the moment.
Markets slump
Equity markets across the world are lower, with the MSCI Asia Pacific Index falling 1.5 percent overnight while Japan's Topix index plunged 3 percent as Doha, the stronger yen and the impact from last week's earthquake all weighed on sentiment. In Europe the Stoxx 600 Index was 0.2 percent lower at 10:48 a.m. London time, recovering from a sharp fall at the open, with energy companies leading the losses. S&P 500 futures are 0.2 percent lower. 
Brazil impeachment vote
The political future of Brazilian President Dilma Rousseff hangs by a thread this morning after she lost an impeachment vote last night in the lower house of that country's parliament. She now faces a vote in the Senate. Investors are hoping that the larger-than-expected margin of victory by the impeachment side in the lower house will strengthen Vice President Michel Temer's hand as he looks to form a new government. Brazilian ETFs in Japan and London rallied in the wake of the vote. 
More investment bank woes
The chief executive officers of Deutsche Bank AG and Credit Suisse Group AG who are trying to turn their banks around have run into a problem: Employee morale. Changes in pay structure are discouraging senior staff, with some at Deutsche Bank doing the previously unthinkable and leaving the office early. Meanwhile in the U.K., boredom is also becoming a problem as deals dry up, with Brexit uncertainty leading to the worst quarter for mergers and acquisitions since 2010. In the U.S., Morgan Stanley is due to report earnings today. 
What we've been reading 
This is what's caught our eye over the weekend.
Before it's here, it's on the Bloomberg Terminal.
LEARN MORE