Brazil's Rousseff Vows to Fight After Losing Impeachment Vote
by and
Process moves to Senate as investors turn attention to the VP

President likens impeachment to struggle against dictatorship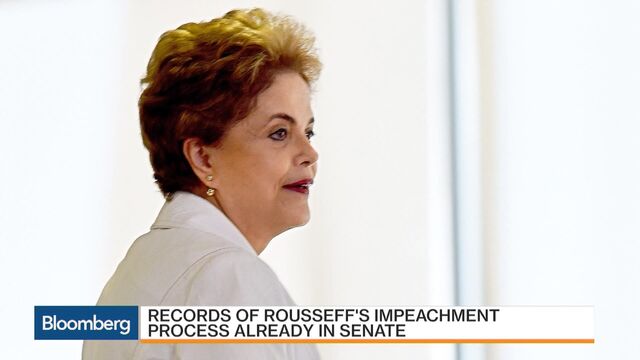 Brazil's President Dilma Rousseff on Monday pledged to continue fighting an impeachment process that she considers a threat to democracy and a personal affront.
Visibly downcast, Rousseff struck a personal tone in her first speech since the lower house of Congress on Sunday voted to put her on trial in the Senate. She likened the current struggle to her fight against Brazil's 1964-85 military dictatorship.
"I feel wronged. They won't kill my hope," Rousseff told reporters at the presidential palace in Brasilia. "It's not the beginning of the end. We're at the beginning of a fight -- a long, drawn-out fight."
Rousseff's comments came as investors shift their focus to the speed in which the impeachment process will unfold and Vice President Michel Temer's chances of reviving economic growth. Initial euphoria over Temer's plans to downsize government and cut spending has given way to concerns that he may struggle to unite a divided country, and that his party may get wrapped up in the two-year corruption scandal that has rocked the Rousseff administration.
Quick guide: What's Next in Brazil's Impeachment Process
Sidebar: Impeachment Euphoria May Fade Quickly as It Came
Sidebar: Brawls, Sermons and Confetti: Brazil Impeachments Have It All
Markets have rallied this year on the prospect of a Temer government. After gains in Asian trading, Brazil's real and stock market closed down on Monday following a central bank intervention in the currency markets.

"More than welcoming Temer, the financial market wants to see Rousseff go," said Marcos Troyjo, who teaches and co-heads an emerging markets forum at Columbia University in New York. "He has a positive flight plan for the economy, but the question is how much of it he can implement."
Congressional Defeat
In a surprisingly strong showing, the opposition on Sunday night garnered 367 votes, 25 more than the two-thirds majority it needed to send the impeachment motion to the Senate.
Asked whether calling new elections were a possible solution to the political crisis, Rousseff said she wouldn't rule out any options, but wasn't currently considering that path. The president said she was open to further legal action to defend her mandate.
Senator Romero Juca, the head of Temer's PMDB party, the largest in the country, said on Monday that Rousseff was weak and could be temporarily removed from office with a simple majority vote in the Senate within the next two weeks. If that occurs, the Senate has as long as six months to try the president and hold another vote whether to permanently oust her.
"The next stage -- in which she would be tried in the Senate with the president of the Supreme Court presiding -- could be much closer, but it does appear that the necessary two-thirds majority would also be reached to remove Rousseff from office permanently," according to Marco Maciel, an economist for Bloomberg Intelligence.
The question is whether Senate chief Renan Calheiros, one of the more pro-government leaders in the PMDB, will play along with a fast-track plan to remove Rousseff from office. He told reporters on Monday just before meeting with the president that the Senate would refrain from moving too quickly or too slow on impeachment.
"We can neither expedite the process and make it look like we're steamrolling it, nor prolong and make it look like we're dragging things out," he said.
'Immense' Pressure
Similarly to what happened in the lower house, there could be motions before the Supreme Court to sort out procedural issues that would delay the vote, according to Teneo Intelligence, a New York-based advisory firm.
Corruption investigations involving some of the key players in Brazil's political scene could further complicate the plot if the Senate fails to push through impeachment quickly, Joao Pedro Ribeiro, an analyst at Nomura Holdings Inc., wrote in a note to clients. Calheiros and lower house speaker Eduardo Cunha, also from the PMDB party, are under investigation on allegations they received benefits from the scheme of kickbacks at state-run oil company Petrobras. They have denied wrongdoing.
In addition to his meeting with Rousseff on Monday afternoon, Calheiros met with Cunha and was scheduled to hold talks with Supreme Court Chief Justice Ricardo Lewandowski.
"Renan won't actively support impeachment, but he also can't withstand immense public pressure and hold it up," said MCM's Ribeiro.
Political consulting firm Eurasia Group said there is only a 20 percent chance the Senate will reject the impeachment motion.
Before it's here, it's on the Bloomberg Terminal.
LEARN MORE