Brazil Investor Impeachment Euphoria Fades as Quickly as It Came
by , , and
Lower house voted on Sunday in favor of ousting Rousseff

Real declines after central bank sells reverse swaps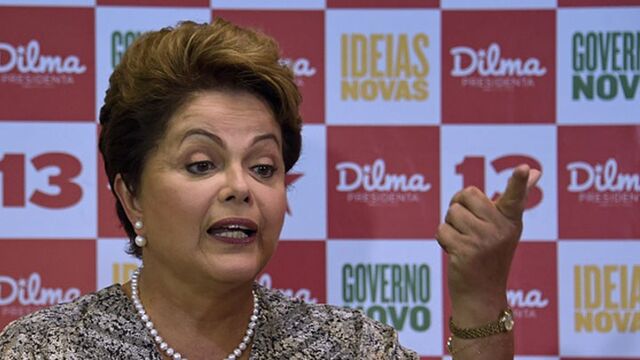 Investors in Brazil may find that getting what they wished for isn't all it was cracked up to be.
Both the real and the Ibovespa declined even after the lower house of Congress voted to proceed with President Dilma Rousseff's ouster. The scope of gains going forward is seen as limited given the difficulty in tackling the country's economic and fiscal crises no matter who is in power, according to long-time watchers.
Investors have piled into Brazilian assets this year on speculation Rousseff's ouster will allow a new government to push through measures aimed at pulling Latin America's biggest economy out of its worst recession in a century and tackling an exploding budget deficit. But the severity of the problems means her likely successor -- Vice President Michel Temer -- will have little margin for error.

"It really now all hinges on economic team nominations and announcements on concrete policy measures," said Alejo Czerwonko, an emerging-market investment strategist at UBS Wealth Management, which oversees $1 trillion in assets. "You need an economic team with the necessary credibility and signs of success" implementing new polices.
Sunday's vote was the most significant step yet in the battle to push Rousseff out of office. The fight now shifts to Brazil's Senate, where a majority must agree to try the president. If that chamber also supports impeachment, she must step down as legislators debate the case. The Senate then would need support from two-thirds of its 81 members to terminate the president's mandate.
Rousseff, 68, has denied accusations she tampered with the nation's budget to mask a deepening fiscal hole and vowed not to resign. In the end, 367 of 513 lawmakers voted for impeachment to move forward, more than the two-thirds majority needed.
The real dropped 2.3 percent to 3.6158 in Monday, the most among major currencies, after the central bank stepped up efforts to curb this year's rally and prevent exports from slumping. The Ibovespa lost 0.6 percent as oil producer Petroleo Brasileiro SA tumbled with oil. Brazil dollar bonds due in 2025 fell 0.7 percent, while the cost of protecting bonds against nonpayment using five-year credit-default swaps was little changed. The iShares MSCI Brazil Capped exchange-traded fund declined 3 percent.

Brazilian assets sold off last year and Rousseff's popularity suffered amid soaring inflation, an unprecedented corruption scandal and a collapse in commodity prices. During her five-year tenure, the country's deficit surged to the biggest in two decades and cost the nation its investment-grade credit rating. The real was the worst performing major currency in 2015 as it plunged 33 percent, while the nation's stocks sold off and the risk of owning the country's bonds increased.
With the chances growing that the 75-year-old Temer will take power, he has begun drawing up plans to form a transitional government, according to an aide involved in drafting the strategy. He plans to shrink the size of government and choose a finance minister who will implement fiscally conservative policies, the person said.
Many investors, not to mention ordinary Brazilians, aren't convinced Temer will be able to pull the economy out of recession. A Datafolha poll published this month showed 61 percent of respondents support Rousseff's removal from office, with Temer faring only slightly better with 58 percent calling for his ouster.
"I'm not too bullish on the whole impeachment process -- Temer is not that great either," said Bianca Taylor, a sovereign analyst and strategist at Loomis Sayles & Co. in Boston, who helps manage $229.1 billion in assets, including Brazilian government notes. "The first reaction would be to be positive regarding the impeachment. But then, the market is going to turn bearish in the second moment."
Investor optimism has sparked a 28 percent rally in Brazil's local-currency bonds this year and a 23 percent jump in the Ibovespa stock index. The gains -- along with the real's 10 percent surge -- make Brazil one of the best performing major market this year.

To sustain these gains, a new government will have to show it has a plan to repair the nation's finances and revive the economy, said Denise Prime, who manages $4.5 billion of emerging-market bonds at GAM UK Ltd. in London. 
"Brazil still has to address serious issues on the fiscal side," Prime said. "At some point the market will refocus on that and what can be and is being done about it."
Before it's here, it's on the Bloomberg Terminal.
LEARN MORE